AVR and XMEGA V3 Handheld Programmer Kit
Supports all AVR and ATxmega Microcontrollers including ISP, JTAG, UPDI, TPI and PDI interfaces.
AVR Serial Programming - AVR ISP
AVR UPDI Programmer including AVR D series
ATtiny TPI Programmer
ATxmega PDI support
AVR and ATxmega JTAG programming, optional adapter needed.
This starter kit includes a Kanda PC USB dongle that will work with all our handheld standalone programmers plus Keyfob and Portable programmers.
Handheld AVR Programmer Benefits
This standalone programmer makes it simple to update firmware in both Atmel ATxmega and AVR microcontrollers, including AVR UPDI, JTAG and TPI. You plug it into the target and press the button. That's all you need to do.
You load your firmware, fuse settings etc. from the PC or Kanda Android App using a Kanda USB dongle and simple software. Once it is loaded, you can program as many targets as you want.
Main Features
Battery powered with 9V PP3 battery or can be used with 9V power supply
512KB of storage space for target code and EEPROM data
Single button press to program target ATXMEGA or AVR microcontroller
Load programmer image using PC Software and USB dongle
You can reload new programs as often as required
AVR ELF production files can be loaded
Once loaded, it holds program code indefinitely
Supports all Fuses and Lock bits, including edit fuses on screen, in hex or in binary
Program Fuses First feature increases programming speed on new AVRs with 1MHz clock
Program and Verify Flash or EEPROM or both
User Area supported
Can program target from 1.8V - 5.5V, depending on target AVR voltage range. ATXMEGA 1.8-3.3V
Can power target microcontroller (up to 150mA) or target can be powered
All settings (fuses, filenames etc) can be saved to a PRG file for easy distribution of setup
Error indication with red/green LED
Dimensions: Imperial - 4.5 x 2.5 x 1 inches
Dimensions: Metric- 106mm x 58mm x 25mm
Optional adapter needed for JTAG programming, see Product Accessories
Includes flying lead adapter for ATxmega PDI and AVR UPDI programming
For 10DIL6 and other adapters, see Product Accessories
Includes USB dongle for loading the programmer
Load programmer from command line or batch file
Limit number of programming cycles
Supports serial numbering in EEPROM or User Area
Optional adapter for ATtiny UPDI 12V reset pulse
Android Device App to reload programmer remotely
AVR ISP, JTAG, TPI and UPDI programmer
ATxmega JTAG and PDI programmer
Windows OS
The USB loader in this kit works in Windows 2000, XP, Vista, Win7, Win8, Win10, Win11 32 and 64-bit versions.
Android App
Save programmer contents to a PRG file (which can be encrypted), send it to an Android tablet, smart phone or cell phone and programmer can simply be reloaded with new contents. This gives you much greater flexibility.
See product accessories below for OTG cables that connect your phone to Kanda Dongle.
More Details, Video and App Download
ATxmega and AVR Microcontroller Support
Supports all L, P, PA, V, A AVR Devices as well
Older AVR: AT90S1200, AT90S2313, AT90S2323, AT990S2333, AT90S2343
AT90S4414, AT90S4433, AT90S8515,AT90S8535, ATmega103
AT90CAN128, AT90CAN32, AT90CAN64
AT90PWM2/3, AT90PWM316
AT90USB1286, AT90USB646, AT90USB82, AT90USB162
ATmega128, ATmega1280, ATmega1281, ATmega1284, ATmega128RFA1
ATmega16, ATmega161, ATmega162, ATmega163, ATmega164, ATmega165, ATmega168, ATmega169
ATmega16M1, ATmega16U2, ATmega16U4
ATmega2560, ATmega2561
ATmega32, ATmega323, ATmega324, ATmega325, ATmega3250, ATmega328, ATmega329
ATmega3290, ATmega32C1, ATmega32M1, ATmega32U2, ATmega32U4, ATmega32U6
ATmega48, ATmega64, ATmega640, ATmega644, ATmega645, ATmega6450, ATmega649
ATmega6490, ATmega64C1, ATmega64M1
ATmega8, ATmega8515, ATmega8535, ATmega88, ATmega8U2
ATtiny13, ATtiny1634, ATtiny167
ATtiny2313, ATtiny24, ATtiny25, ATtiny26, ATtiny261
ATtiny4313, ATtiny43U, ATtiny44, ATtiny45, ATtiny461, ATtiny48
ATtiny84, ATtiny85, ATtiny861, ATtiny87, ATtiny88
ATtiny441, ATtiny841
All P (PicoPower), PA, PB, V, L and A AVR microcontroller versions are supported.
All ATxmega using PDI interface
ATxmega using JTAG interface (if on device) - slower and needs JTAG Adapter
ATtiny TPI Support
ATtiny10, ATtiny102, ATtiny104, ATtiny20, ATtiny4, ATtiny40, ATtiny5, ATtiny9
AVR ATtiny UPDI Support
ATtiny202, ATtiny402, ATtiny204, ATtiny404, ATtiny804, ATtiny1604
ATtiny406, ATtiny806, ATtiny1606, ATtiny807, ATtiny1607
ATtiny212, ATtiny412, ATtiny214, ATtiny414, ATtiny814, ATtiny1614
ATtiny416, ATtiny816, ATtiny1616, ATtiny3216
ATtiny417, ATtiny817, ATtiny1617, ATtiny3217
ATtiny424, ATtiny426, ATtiny427
ATtiny824, ATtiny826, ATtiny827
ATtiny1624, ATtiny1626, ATtiny1627
ATtiny3224, ATtiny3226, ATtiny3227
Optional adapter for ATtiny UPDI 12V programming pulse available - see related products. 12V adapter is not needed unless you reconfigure UPDI/Reset pin in fuses
ATmega UPDI Support
ATmega808, ATmega1608, ATmega3208, ATmega4808
ATmega809, ATmega1609, ATmega3209, ATmega4809
AVR D and E Series UPDI Support
AVR128DA28, AVR128DA32, AVR128DA48, AVR128DA64
AVR32DA28, AVR32DA32, AVR32DA48
AVR64DA28, AVR64DA32, AVR64DA48, AVR64DA64
AVR128DB28, AVR128DB32, AVR128DB48, AVR128DB64
AVR64DB28, AVR64DB32, AVR64DB48, AVR64DB64
AVR32DB28, AVR32DB32, AVR32DB48
AVR16DD14, AVR16DD20, AVR16DD28, AVR16DD32
AVR32DD14, AVR32DD20, AVR32DD28, AVR32DD32
AVR64DD14, AVR64DD20, AVR64DD28, AVR64DD32
AVR64EA28, AVR64EA32, AVR64EA48
Power
The standalone programmer can power the target (up to 150mA) or target can be powered.
PC Dongle will power programmer
Target Programming: Programmer switches on when button pressed and off when programming finished
Powered by 9V PP3 battery or 9V PSU (2.1mm barrel, centre positive - see product accessories)
Battery life depends on many factors but several hundred operations is normal
AVR Standalone Programmer Version 3 Improvements
Replaces HH0110X
Better Power management stops battery from flattening if left connected
Longer battery life
Faster AVR UPDI programming
Support for AVR DA, AVR DB, AVR DD, AVR EA devices
Latest PC software supports all versions of AVR Handheld Programmer
Supports serial numbering in EEPROM or User Area
Contents
AVR and ATXMEGA V3 Handheld Programmer
USB Loader Dongle
10-way Programming lead
10 to 6-way flying lead adapter for ATxmega/UPDI microcontrollers
Free software downloads including all updates
This is the programmer with USB loader. See related products for programmers on their own -
HH0120V3
Available adapters
We now have adapters to convert from the standard Kanda 10-way AVR ISP lead to different 6-way headers and different pitch - 1.27mm or 2.0mm.
Full List of Available Adapters
Here are some popular adapters.
6-Way DIL adapter
6 x 1-way leads
- included
6-Way Micromatch connector
1.27mm Adapter
JTAG Interface
See
JTAG Adapter
for ready made JTAG adapter
See
JTAG Pinouts PDF file
for details of pin wiring.
UPDI Interface
The programmer comes with a flying lead adapter and 3 wires can be connected for UPDI programming - Blue is UPDI, green is VCC and brown is GND.
For 6-way UPDI (2.54mm/0.1") connection, use
12V UPDI adapter
For 10-way 1.27mm UPDI interface, use
AVR ICE Adapter
This has this pinout (same as Atmel ICE AVR connector)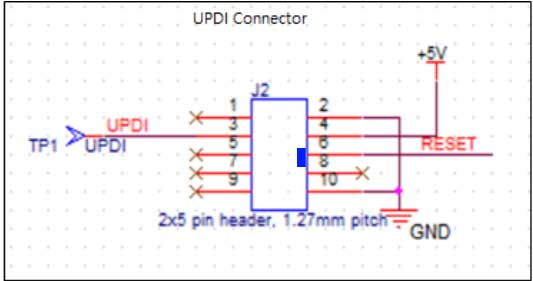 Custom Adapters
If you need any other type of connector, we can supply all sorts of custom adapters - see
Custom Connectors
Connections for ATE
AVR V3 handheld programmer can be used as a programming interface for ATE systems, using Labview, C or other programming language. The programmer has an ATE connection point on PCB that can be connected for remote control.
It has switch input to start programming and Status output showing programming, pass and fail. 8-way programmer slot select is also on connector.
For more details, see
ATE Guide