Kanda now supply three different standalone PIC programmers for portable field and production programming.
Handheld PIC Programmer: Robust, single button operation, 256KB, hold one program
8-way Handheld PIC Programmer: Stores 8 programs, select by rotary switch, one program button
Portable PIC Programmer: Stores 32 programs, Keypad and LCD for selection
Handheld PIC Programmer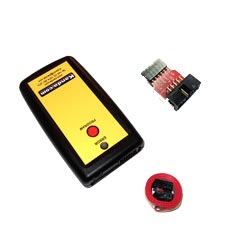 Handheld features
The standalone
Handheld PIC Programmer
is the big brother of the PIC keyfob portable PIC programmer. It has the same easy to use single button operation but it is robust enough to power the target at 3.3V or 5V. So it is better for low voltage targets and programs faster than the keyfob programmer. It has a range of features that make it ideal for field and production use.
Single button operation
Powered by 9V PP3 battery
Connector for 9V PSU (2.1mm barrel, centre positive)
Supports PIC16F and PIC18F families, including PIC18F J parts
Powers target at 3.3V or 5V, with 9V or 12.5V VPP for High Voltage Programming
Low and high voltage programming modes
Fast programming times