Standalone Portable PIC Programmer
The Portable PIC Programmer is a new standalone, more adaptable version of Kanda's long established PIC handheld Programmer. It builds on Kanda's
keep it simple
philosophy and so it is much easier to use than other portable programmers.
It has 32 program slots that are loaded from the PC with distinct target information, including different PIC microcontrollers, code and data, configuration bytes, programming voltage and slot title. Once loaded, it can be used anywhere, the ideal standalone PIC programmer. Program selection is easy, by number or by scrolling through titles. Once slot is selected, press Program button to update the target PIC microcontroller.
It includes a charging circuit for the rechargeable 9V PP3 battery fitted, and is supplied with a 15V international wall transformer. It can power target circuit if required.
Portable PIC Programmer Operation
Load from PC via USB using Kanda interface and simple software included with kit
Take it with you
On site, select correct target using LCD, keypad or scroll arrows
Plug into target and press Program button
Check result on LCD
That's it, job done - on to next job
Plug in to recharge battery using mains/wall transformer supplied
Who is this programmer for?
The Portable PIC Programmer is ideal for anyone who needs to quickly and easily update PIC microcontroller firmware in a variety of different equipment. This could be
Production technicians who need to customise products or deal with different product lines
Software developers who need to try various firmware versions on site
Service engineers who have to service a mixture of equipment
Maintenance engineers who need to update a range of machinery
In fact, it is ideal for any firmware update in situations where a laptop is too cumbersome or complicated for the job.
Technical Information
Windows OS: Win 2000, XP, Vista, Win 7, Win 8, Win 10 - 32 and 64-bit
PC Interface: USB adapter and software included
Dimensions: 125 x 70 x 25mm (4.8 x 2.6 x 1 inch)
Weight: 130g (4.5oz)
Power: Includes charger circuit and 9V rechargeable battery. 15V power unit/wall transformer included
RoHS compliant
Capacity: 32 program slots, each of 256KB, to store code, data and configuration, PIC microcontroller, title and programming options
Powers target at 3.3V or 5V, depending on device and user selection
9V or 12V VPP supplied, uses VPP first programming if supported by target PIC
Low voltage programming (LVP) is also supported
PIC Microcontroller support
PIC18Fxxxx
PIC18FxxJxx
PIC18FxxKxx (9V VPP)
Now Supports PIC18FxxK80, PIC18F6xK22/8xK22, PIC18FxxJ50, PIC18F6xK90/8xK90 and PIC18FxxK83
Supports PIC18FxxQ10, PIC18FxxQ4x
Supports LF versions
FREE Updates available for new device support.
PIC12F Microcontrollers
PIC12F1822, PIC12F1840
PIC12F609, PIC12F615, PIC12F617
PIC12F635, PIC12F683
PIC12F1571, PIC12F1572
Plus LF versions
PIC16F Microcontrollers
PIC16F610
PIC16F616
PIC16F627
PIC16F628
PIC16F627A, PIC16F628A, PIC16F648A (HVP mode programming only if Reset pin is not reprogrammed as I/O)
PIC16F631, PIC16F636, PIC16F639
PIC16F677
PIC16F68x, PIC16F690
PIC16F7x
PIC16F7x7
PIC16F72x
PIC16F785
PIC16F818
PIC16F819
PIC16F8x
PIC16F8xA
PIC16F87x
PIC16F873A
PIC16F874A
PIC16F876A
PIC16F877A
PIC16F88x
PIC16F91x
PIC16F15xx
PIC16F161x
PIC16F170x
PIC16F171x
PIC16F176x
PIC16F177x
PIC16F178x
PIC16F18xx
PIC16F183xx
PIC16F19xx
PIC16F188xx
PIC16F153xx
PIC16F184xx
PIC16F152xx
LF versions are also supported
PIC12F and PIC16F Not supported
PIC12F629
PIC16F630
PIC16F676
PIC16F5x
PIC16F505
Notes: Programmers support 9V VPP for PIC18FxxKxx and PIC16F1xxx. LVP mode is supported on PIC microcontrollers with LVP.
Portable PIC Programmer Kit Contents
Portable PIC Programmer unit
15V Power supply unit/wall transformer
USB PC interface and lead
Software CD
10-way cable
6-way flying lead adapter
Standalone PIC Programmer Software
Install the software from the CD supplied and plug in the USB interface included in the kit and the USB drivers will be installed automatically.
Connect the portable programmer to the USB interface and run the software to read the programmer contents. The contents of each slot is displayed in a list with its number, title, target PIC microcontroller and filename. You can edit existing slots or add new slots up to the maximum of 32, but only 1 slot actually has to be loaded.
As well as setting target PIC microcontroller and files, each slot can have different programming method (LVP or HVP), 3.3V or 5V VCC and different options.
Click New or Edit Program button to load the programmer. Programmer contents can be saved and loaded to another portable programmer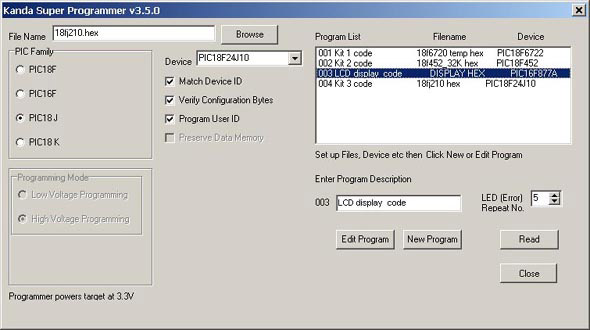 ---
Selecting Program Slot
The portable programmer has a keypad and LCD display.
Keypad Layout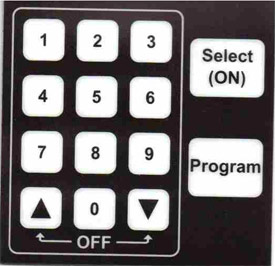 Either enter the program slot number as 3 digits eg 003, and press Select or use up and down arrows to scroll through slot titles to required slot and press Select. Empty slots show as Not Available, otherwise slot number and title are shown on LCD.
---
Programming the PIC target
Plug the programmer into your target PIC microcontroller circuit, using the 6-way flying leads supplied, or use an adapter for other interfaces such as ICD2 RJ11. Then select target program by number or by scrolling and just press Program button. Programming progress and pass/errors are shown on LCD screen.