Selected Category and Product:

Programmers-Burners » Hand Held Programmers » Adapters Connectors » UPDI-12V
Secure Payment by

UPDI 12V Adapter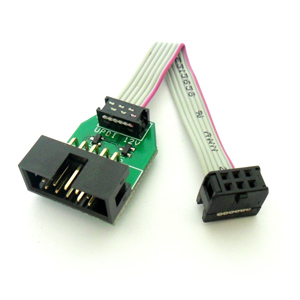 AVR-ATxmega Handheld programmer - X version only
Adapter for ATtiny 12V UPDI programming
12V only needed if Reset pin is reconfigured in fuses
UPDI programming only supported on X version
Microchip 3 x 2 target interface
Shipping to United States
Recorded Airmail: $9.75
Express: $19.00
Order Code
UPDI-12V
Price: $10.00
In Stock
Related Products
AVR Handheld Programmer 12V UPDI Adapter
UPDI interface is supported on X version of Handheld Programmer only
New AVR ATtiny devices have UPDI programming interface. This is a 1-wire protocol that uses the Reset pin for programming. By default, new ATtiny microcontrollers have Reset pin configured as UPDI. This means that they can be programmed without applying 12V.
However, the user can use the device fuses to change Reset pin from UPDI to Reset function or to GPIO. If this is done, a 12V pulse must be applied to Reset pin to re-enable UPDI interface.
New ATmega devices with UPDI interface (ATmegaxx08/09) have a dedicated UPDI pin separate from Reset pin and do not ever need 12V entry.
This adapter provides 12V pulse to target to re-enable UPDI on ATtiny. It has standard Microchip UPDI 3 x 2 pin-out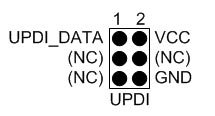 Ordering Information
| | | |
| --- | --- | --- |
| Ordering Information | Order Code: UPDI-12V | Price: $10.00 |
| Shipping to United States: | Recorded airmail - $9.75 | Express price - $19.00 |