10-Way to 6-Way DIL Programmer Adapter
An adapter or convertor from standard Kanda 10-way AVR ISP programmer output to a 6-way DIL programming format. The 6-Way header is a female header designed to plug on to standard 0.1" (2.54mm) pitch pin headers. It has a wide key way, 4mm (0.2 inches), which might not fit all box headers.
The pins available are VCC and GND plus 4 signal lines, which vary depending on the microcontroller programmer being used.
AVR ISP programmers such as handheld AVR and AVRUSB can use this converter to save space on the embedded microcontroller target board. This adapter works with
ISP, TPI and UPDI
programming methods. It does not fit PDI (ATxmega) 6-way interface, which needs
10PDI6
adapter.
If your UPDI programming needs a 12V pulse to reset UPDI (ATtiny), you will need
UPDI-12V
instead.
It is included with AVRISP-U but not with Handheld or Keyfob Programmers.
6-way Interfaces
Microchip recommend these 6-way target interface layouts for different programming methods.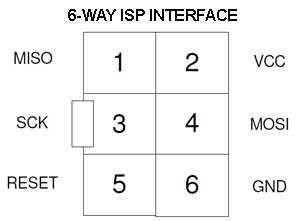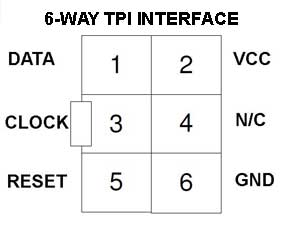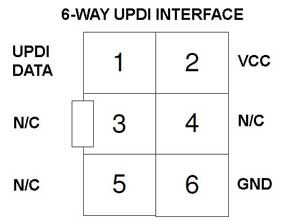 Box Header Layout
If you want to place a box header with keyway on your PCB to accept this 6-way ICD connector, then you need to search for 2.54mm or 0.1" 6 way IDC straight header or box header. Some connectors have a different width key way indent. The key way width on the adapter lead is 4.4mm.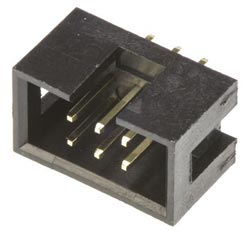 The width of the key way indent is 4.4mm.
The IDC socket on our adapter lead is manufacturered by Valcon (V101-W-06-R1) and fits into a Valcon header (302-S-06-D1R1). The keyway indent is same for 6, 10 and more ways.
PCB IDC header drawing
10AVR6
in related products has a 6-way AVR ISP connector with crimp housing connector. This is still 3 x 3 but has different profile.
---
Related Products
10-WAY to 6-Way Flying Lead Programmer adapter