Selected Category and Product:


Programmers-Burners » In System Programmers (ISP) » Universal ISP » SP-ISP01
Secure Payment by

SuperPro IS01 Universal ISP Programmer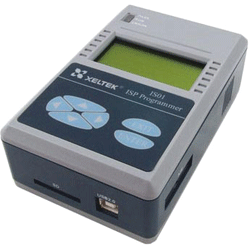 SuperPro IS01 Universal ISP Programmer
Super fast USBv2.0 In System Programmer that works on Windows and Linux and supports over 9580 devices, including many microcontrollers like AVR, Xmega, PIC, dsPIC and more plus memory...
Shipping to United States
Recorded Airmail: $18.50
Fedex Express: $28.00
Related Products
SuperPro ISP01 Universal ISP Programmer
New Lower Price
Super fast In System Programmer using USBv2.0 communications, which works on Windows and Linux. It supports over 9580 devices, including many microcontrollers from Atmel, Microchip, Motorola, NEC, Samsung and ST as well as most E(E)PROM/FRAM/NVRAM memory from 148 different manufacturers.

Device Support List
Universal ISP Programmer Features
High speed hardware engine, based on ARM9 CPU. Adjustable Programming speed to compensate for different target boards, length of ISP cable etc…
ISP support for devices with BDM, CAN, I2C, JTAG, MW, SPI, UART and any other serial port interface.
Includes ATE interface.
Supports Windows and Linux O/S.
Operates in either Stand-alone and PC-Host mode.
DLL, API and Virtual COM Port communication command set for easy integration into third party applications.
PC data communication and control uses fast USB 2.0.
Over-current trip and ESD protection to prevent damage to your equipment.
Lightest ever: Mechanical size: 137mm(L)x87mm(W)x47mm(H).
SP-ISP01 Universal ISP Programmer Details
Self-powered, portable, stand-alone, universal ISP programmer.
ISP01 has on-board Flash memory plus a slot for SD cards to store thousands of data files. The SD card has a FAT32 file system, so data files on the SD card can be read and managed using a standard SD card reader on your PC. Data files include projects and device algorithms to simplify your engineering management, and hundreds of files can be stored on a single SD card.
ISP01 is a multi-function, Engineering and Industrial ISP programmer. Its high program speed, compact size and flexibility make it suited for the most demanding applications. It has two operating modes:

In PC-hosted mode, the programmer is controlled through USB by a PC.
In stand-alone mode, the programmer is controlled by the keyboard and LCD. Project files are downloaded and stored in internal flash memory, or on an optional SD card, before programming operations start. Then the PC can be disconnected.

The programmer includes an LCD display and Keypad for stand-alone operation. Customized BIOS and user interface will be provided.
It has an ARM9 core with Linux OS, and SD card for storage of project/data in PC standard FAT32 file system. Standalone control is done by the 20 characters x 4 lines LCD display and 6 key keypad. It also has an ATE interface for control if preferred.
The external AC power adapter supplied will provide power to both the programmer and the target device, so the target equipment can be unpowered.
The ISP01 includes an Over-current protection circuit to limit power to the target device.
The programmer serial number is written into the built-in flash memory, and will be displayed when programmer is powered up.
SuperPro IS01 Universal ISP Programmer Hardware
ISP cable includes I2C, SPI, UART, BDM, MON, MW, JTAG, CAN, ICC, RS232 interfaces.
ISP header includes adjustable target voltage lines (VDD/VCC) from 0V to 5.5V maximum 0.5A
Target Vpp line from 0V to 15V, maximum 0.2A.
Includes cable driver circuit with ESD protection, for target programming from 1.5 to 5V.
High Speed USB 2.0 interface is used for PC hosted mode and management of project files on SD card.
The built-in 20 Characters x 4 lines LCD and 6-key keypad are used for stand-alone operation. Project files for stand-alone operation are stored on the SD card (up to 32GB). The capacity of the SD card is the only limit on the number of projects that can be stored.
An ATE interface is built-in for simple external hardware control, if needed. It has

6 lines (SEL0-SEL5) for project selection (maximum 64 files)
2 command lines, START and STOP
3 STATUS lines- PASS, FAIL and BUSY
All ATE lines are optical-isolated.

A universal AC adapter is included supplying 12VDC/2A.
Universal ISP Programmer Software
Supports almost all devices with ISP interface.
Supports ACTEL and ALTERA Jam & Staple files plus ACTEL Direct C files.
Selectable programming speed (High, Normal and Low) to allow for different cable lengths, different target load characters, etc.
Includes dynamic buffer function to support features like device S/N, MAC address, frequency or transducer calibration etc.
SD card formats include FAT16 and FAT32.
Available functions for IP protection: Project security, SD security, batch control, administration management etc.
API and DLL are supplied for easy integration into ICT and ATE.
SuperPro ISP01 software supports multiple units working concurrently through USB HUB.
Universal ISP Programmer Application Examples
R&D applications, such as in-circuit testing and debugging.
Volume production application as devices can be programmed after board assembly. For example, writing a serial number to an on-board serial device.
Field application as the unit is portabile with stand-alone mode and mobile data storage media (SD card). This makes it suitable for field testing, debugging and data acquisition.
System integration, into ATE or ITC systems, for product testing and programming are greatly simplified by the choice of software interfaces (DLL, Virtual COM command set) and hardware interfaces (USB or ATE).
Universal ISP Programmer Contents
SuperPro ISP01 ISP Programmer
AC adapter
ISP Cable
Software CD
USB Cable
User Manual
Device Support and Software Download
Supports microcontrollers such as AVR, Xmega, AVR32, dsPIC, PIC and many more plus most serial programmable memory chips, see full support list for details.

Software Download

Device Support List
Ordering Information
| | | |
| --- | --- | --- |
| Ordering Information | Order Code: SP-ISP01 | Price: $1,095.00 |
| Shipping to United States: | Recorded airmail - $18.50 | Fedex Express - $28.00 |