Wellon Universal ISP
Fast USB 2.0 universal programmer for a huge range of devices, including microcontrollers and memory. It can be used from the PC USB port or operated in standalone mode from its keypad and LCD.
Main Features
Supports PC mode (USB port) and stand-alone mode (LCD and keypad).
Projects are stored in internal memory on the programmer
Accepts standard file formats: JEDEC, INTEL (Extended) HEX, HOLTEK, EMC(.CDS), INTEL HEX16, Motorola S record
Accepts most compiler outputs in JEDEC format including ABEL, CUPL, PALASM, TANGO PLD, OrCAD PLD, PLD Designer and ISDATA
Supports WindowsXP/Vista/ Windows 7 (32bit and 64bit)/ Windows 8 (32bit and 64bit)
Supports ten languages: Chinese(Simplified), Chinese(Traditional), English, Korean, Polish, Italian, Portuguese, Dutch, Turkish and Hungarian.
Security passkey for keeping your data safe and to limit number of programs allowed
Dimensions :219×169×34mm (8.5x6.7x1.3inches)
Weight: 580g (1.28 lbs)
Features Test Vector capability and multi-array fuse map editor
Device Support
It supports over 30,000 devices and can be used connected to a PC via USB or can be used as a standalone programmer. Device support includes SPROMs and MCUs from manufactures such as Atmel, Microchip, Cypress, Motorola/Freescale, Mitsubishi/NEC/Renesas, Maxim, Philips/NXP, Silicon Labs, SGS, Samsung, Syncmos, ST, STC, Texas Instruments, Zilog, and many others. Microcontrollers include architectures such as 8051, ARM, AVR, PIC, dsPIC, M8C, Chipcon, Z8 and other cores. Memories supported include EEPROMs and Flash memory and the ISP200 also supports PLDs.
Full device support list
Contents
ISP200 Programmer
WL-ISP-U001 10-way ISP cable
USB lead
Universal Power Supply
Software CD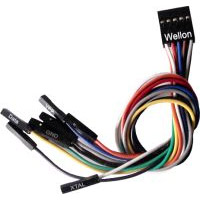 Standalone Mode
Standalone mode is perfect for production as the keypad/LCD combination doesn't require any technical skill to use and it has security features to keep your data safe. You can set up a passkey sequence that must be entered to begin programming, and can set it to require a passkey sequence after a set number of successful programming operations.
Universal Programmer Software
The software is comprehensive, with lots of features that make it ideal for both production and development, such as auto-count, batch command, etc.
SELECT device includes package information, adapter type, part number, description etc.
LOAD file supports checksums, comprehensive file formats and address location
Flexible verify options, including VCC±5% and VCC±10%
Blank Check, Erase, Program, Verify, Auto Program, Buffer Edit and much more
Serial numbers and statistics