Selected Category and Product:

Starter Kits » Arduino » W-ACCESS-SHIELD
Secure Payment by

Accessory Shield for Arduino Development,
Arduino Accessory Shield
OLED: 0.96", 1028 x 64 resolution
256 colour RGB LED
Real Time Clock (RTC)
Joystick, buzzer and accelerometer
Shipping to United States
Recorded Airmail: $9.75
Express: $19.00
Order Code
W-ACCESS-SHIELD
Price: $17.99
In Stock
Related Products
Arduino Accessory Shield
Waveshare Arduino shield with loads of useful features including OLED, joystick and XBee module interface. Perfect for adding all these different features to your project or application.
Main Features
Joystick (5 directions)
Adjustable potentiometer
Buzzer
RGB LED
Temperature sensor
3-axis digital accelerometer
High precision RTC
0.96inch OLED
XBee interface
Shield Layout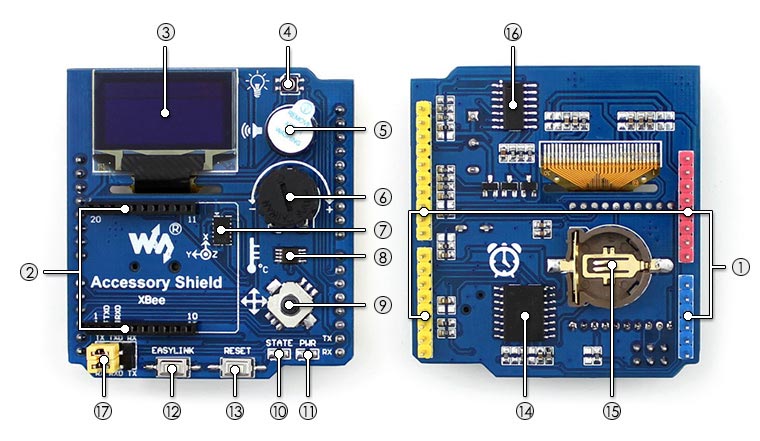 Arduino expansion headers : for connecting with an Arduino board
XBee connectors : connecting XBee wireless modules
0.96inch OLED : 128×64 resolution
RGB LED : 256×256×256 colors
Buzzer : controlled by PWM, capable of playing simple music
10K adjustable potentiometer
ADXL345 : 3-axis digital accelerometer, measuring range up to ±16g
LM75BDP : temperature sensor, resolution up to 0.125?
Joystick : 5 directions
XBee module state indicator
Power indicator
XBee module EASYLINK button
XBee module and Arduino RESET button
DS3231 : high precision RTC chip
CR1220 battery holder : for RTC battery
P9813 : RGB LED driver
Debugging/Communication selection jumper

when connecting TXD and TX, RXD and RX respectively, it's able to debug/config the XBee module through Arduino board serial port by using host computer software
when connecting TXD and RX, RXD and TX respectively, it's able to communicate with the XBee module through Arduino board serial port
Downloads
Development resources: demo codes, schematic, datasheets, etc.
Arduino Accessory Shield
Ordering Information
| | | |
| --- | --- | --- |
| Ordering Information | Order Code: W-ACCESS-SHIELD | Price: $17.99 |
| Shipping to United States: | Recorded airmail - $9.75 | Express price - $19.00 |