Selected Category and Product:


Starter Kits » Arduino » W-MTC-SHIELD
Secure Payment by

Arduino Motor Control Shield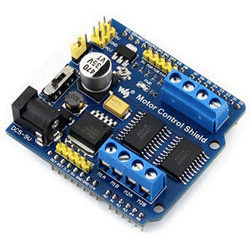 Can drive 4 DC or 2 stepper motors
Variable voltage
Low cost
Dual H-bridge driver
Pin headers for easy connection
Shipping to United States
Recorded Airmail: $15.00
Fedex Express: $25.00
Order Code
W-MTC-SHIELD
Price: $7.69
In Stock
Related Products
Arduino Motor Control Shield
Arduino motor control shield for driving DC motors and stepper motors including buggies, robot chassis and other motor control tasks.
Main Features
Motor power supply configurable via onboard jumper

5V motor power supply : drives four 5V DC motors at once
Adjustable motor power supply : drives two 1.25V-6.45V DC motors at onc, with 9V external power supply is required

Two Dual H-bridge driver chips - L293D

Each L293D can drive 2 DC motors or 1 stepper motor at once
4 channel H-bridge, with 600mA output current (peak 1.2A) per single bridge
ESD protection
Motor Shield Details
External power supply jack
Power input/output pinheader
Stepper motor interface
DC motor interface
M_PWR configuration : connects M_PWR (motor power) to 5V or ADJ
Power selection switch
Power indicator
AMS1117-ADJ : onboard linear regulator with adjustable output
Adjustable potentiometer : for adjusting the output voltage of ADJ (adjustable motor power)
L293D : dual H-bridge driver
LM2596-5.0 : onboard linear switching regulator with 5V output
Important:
Regulator and driver chips will generate heat during operation, this is quite normal.
Downloads
Development resources: demo codes, schematic, datasheets, etc.
Motor Control Shield
Ordering Information
| | | |
| --- | --- | --- |
| Ordering Information | Order Code: W-MTC-SHIELD | Price: $7.69 |
| Shipping to United States: | Recorded airmail - $15.00 | Fedex Express - $25.00 |