Selected Category and Product:


Programmers-Burners » Universal Programmers » Xeltek Programmers » SP6104GP
Secure Payment by

Xeltek SuperPro 144-pin Gang Programmer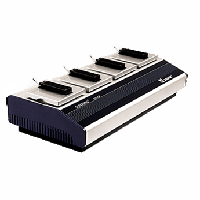 Xeltek SuperPro SP6104GP 144-pin Gang Programmer
Ultra-high-speed Intelligent Universal Gang Programmer with 4 positions. Built-in 144 Universal pin drivers.
Shipping to United States
Economy: Not Available
Express: $70.00
Order Code
SP6104GP
Price: $6,295.00
Short Lead Time
Related Products
Xeltek SuperPro 144-pin Gang Programmer
Ultra-high-speed Intelligent Xeltek Universal Gang Programmer with 4 positions with 144 built-in Universal pin drivers.
---
SP6104GP Main Features
Device support over 92,000+ devices
Programs devices with Vcc as low as 1.2V.
Ultra fast programming speed: Programming speed up to 30% faster than SuperPro5004GP.
Built with 144 universal pin-drivers for support of today's most complex devices.
Supports NAND / eMMC devices up to 256 GB.
Universal and device independent socket adapters available for various package types up to 144 pins.
4 independent programming modules operating concurrently for high speed programming.
USB2.0 interface to a PC for high speed programming.
ISP/ICP programming capability through optional ISP/ICP adapter.
Only IC manufacturer approved programming algorithms provide high reliability. Vcc verification at (+5%~-5%) and (10%~-10%) enhances programming reliability.
Over-current and over-voltage protection for safety of the chip and programmer hardware.
Compatible with Windows Vista, XP. 7, 8 x32/x64
Includes the following advanced and powerful software functions:

Chip operation starts immediately upon proper chip insertion in Production Mode.
Project function simplifies processes such as device selection, file loading, device configuration setting, program option, and batch file setting into one step.
Password protection provides security for project files and production volume control.
Batch command combines device operations like program, verify, security into a single command at any sequence.
Serial number generators are available as standard or customer-specific functions.
Log file provides production quality tracking.
---
Hardware and Electrical Specifications
Device Supported: EPROM, Paged EPROM, Parallel and Serial EEPROM, FPGA Configuration PROM, FLASH memory (NOR & NAND) n, BPROM, NVRAM, SPLD, CPLD, EPLD, Firmware HUB, Microcontroller, MCU, Standard Logic, NAND / eMMC.
Full Device List


Package: DIP, SDIP, PLCC, JLCC, SOIC, QFP, TQFP, PQFP, VQFP, TSOP, SOP,TSOPII, PSOP,TSSOP,SON,EBGA, FBGA, VFBGA, GA, CSP, SCSP etc.
PC interface: USB2.0 (High speed)
Stand-alone Function: None
Power supply. AC Adaptor: Input AC 100V- 240V; Output: 12V/6A.
Main unit: Dimensions 438 * 216 * 94 mm ; Weight 4.3 Kg
Package: Dimensions 550 * 252 * 145 mm; Weight 5.9Kg
---
Contents
Main unit with a DIP48 Adapter
AC adapter
Software CD
USB2.0 Cable
User Manual
Register Card
---
Quick Links
Xeltek Device search
Full Device Support List
in new window.
Different Xeltek Gang Programmer Solutions
---
Ordering Information
Ordering Information
Order Code: SP6104GP
Price: $6,295.00
Express shipping to United States :
$70.00