Selected Category and Product:

Programmers-Burners » Universal Programmers » Xeltek Programmers » Xeltek Legacy » SP6000E
Secure Payment by

Xeltek SP6000E High Speed Universal Programmer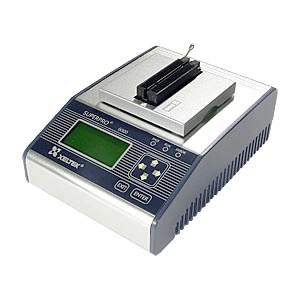 Xeltek SP6000E High Speed Universal Programmer
Fast universal programmer with standalone mode using compact flash cards and PC mode. It has 144 pin drivers for the most complex devices and it can program NAND / eMMC devices up to 256 GByt
Shipping to United States
Economy: Not Available
Express: $39.00
Order Code
SP6000E
Price: $1,495.00
Discontinued
Replacement Product
Related Products
Xeltek SP6000E High Speed Universal Programmer
Fast universal programmer with standalone mode using compact flash cards and PC mode. It has 144 pin drivers for the most complex devices and it can program NAND / eMMC devices up to 256 GBytes.
SP6000E Main Features
Up to 30% faster than rival programmers
Standalone for production, PC hosted for engineering
Can be used as an In System Programmer with optional adapter
Supports all Windows OS from XP on, 32 and 64-bit
Programs 75,000+ devices from 279 manufacturers
Uses ARM9 RISC Microcontroller for maximum speed
2 Year warranty, RoHS and CE compliant
SP6000E Universal Programmer Details
Programs devices down to 1.2V Vcc
Super fast, 30% faster than older products like SP5000E
SP6000E uses 144 pin-drivers, so the most complex devices can be programmed with the wide range of socket converters (CX series)
2 operational modes, PC based or standalone. PC mode uses high speed USB2.0, and standalone mode uses compact flash card to store programs and LCD/Keypad to control programming
The SP6000E programs devices up to 256GBytes
ISP/ICP adapter is available, see related products
Multiple units can be linked together in standalone mode
Over voltage and current protection is included to protect chip and programmer
Windows 32 and 64-bit support
Only manufacturer approved algorithms are used for maximum reliability
Verification is done at VCC +5%, -5%, +10% and -10% to ensure correct programming
Clever software features include

Easy device selection
Start programming on device insertion mode
Project feature allows simple option setting, file load, batch file operations etc in one step
Password protection for controlling access
Batch file allows operations in any sequence
Standard or customer specified serial number generator
Log file for production control
Xeltek SP6000E Contents
SuperPro 6000E Programmer with a DIP48 Adapter
AC adapter
Software CD
USB Cable
Quick Links

Full Device Support List
in new window.
Download SP6000E Software
Different Xeltek Universal Programmer Solutions
Ordering Information
Ordering Information
Order Code: SP6000E
Price: $1,495.00
Express shipping to United States :
$39.00