Selected Category and Product:


Programmers-Burners » Universal Programmers » Wellon Programmers » Automotive Programmers » AUTO300
Secure Payment by

Wellon Automotive Programmer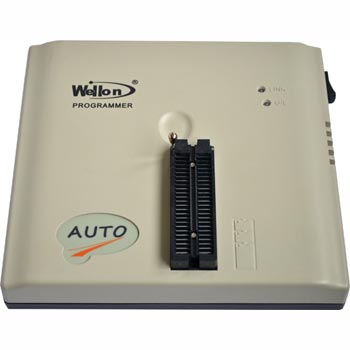 Ideal for vehicle electronics
Supports most common car microcontrollers and memory
48-pin ZIF socket, ISP adapter, socket converters available
USB PC interface and power supply included
Full Device Support List in new window
Shipping to United States
Recorded Airmail: $15.00
Fedex Express: $25.00
Order Code
AUTO300
Price: $480.00
Short Lead Time
Related Products
Wellon Automotive Programmer
This programmer is designed for vehicle electronics. If you need to program devices in ECU or other car electronics, then this programmer is ideal for you.
Most devices found in automotive applications can be programmed either In System (ISP) with the supplied adapter or in the 48-pin ZIF socket with the huge range of socket converters.
Most special socket convertors are in
this category
Standard socket converters are in
Wellon Adapters
category
If a socket adapter shown in device support list is not on our shop, please contact us for pricing.
Main Features
48 Pin ZIF socket with universal pin-drivers.
USB port connection
Includes universal power supply
Supports most file formats: JEDEC, INTEL (Extended) HEX, HOLTEK, EMC(.CDS), INTEL HEX16, Motorola S record, Binary
Device insertion and poor-pin-contact check
Supports 1.5v Low voltage devices
Windows XP, Vista 7 and 8, 32 and 64-bit support
Auto-run mode starts programming automatically on chip insertion
Supports ten languages,such as English, Chinese(Simplified), Chinese(Traditional), Korean, Polish, Italian, Portuguese, Dutch, Turkish and Hungarian.
Dimension Metric:168 x 108 x 26mm, weight:300g.
Dimension :6.5 x 4 x 1 inch,weight:10.5 oz
1 year warranty
All FCC and CE approvals, RoHS compliant
Device Support
Over 5000 devices in socket or by ISP
Common Atmel AT89 and AVR microcontrollers
Freescale microcontrollers eg OJxxx, OKxxx, MC68HC12xxx
Motorola MC68HC11, MC68HC12, MC68HC912, MC9S12D
Common Microchip PIC12F and PIC16F series
Megawin MPC89E, MPC89L
STC IAP15F, IAP15W, STC15F, STC15W
TMS TMS370C
Memory from Bosch, Infinion, ST, Fujitsu and most other manufacturers
Serial EEPROMs
Wide range of EPROM, EEPROM and SPROM memory
Full Device Support List
including socket converters.
Programer Kit Contents
48-pin Auto300 Automotive Programmer
USB Lead
Universal Power Supply
Software CD and Manual
ISP Adapter
Ordering Information
| | | |
| --- | --- | --- |
| Ordering Information | Order Code: AUTO300 | Price: $480.00 |
| Shipping to United States: | Recorded airmail - $15.00 | Fedex Express - $25.00 |