Selected Category and Product:

Programmers-Burners » Hand Held Programmers » Handheld AVR Programmers » HH0110P
Secure Payment by

New Handheld AVR Programmer Parallel Port Starter Kit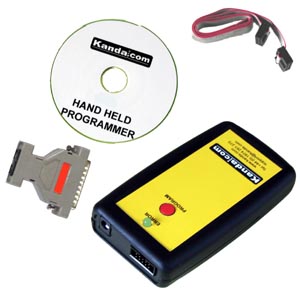 Parallel Port Starter kit for 256K Handheld AVR Programmer
Parallel Port version
USB version of this easy to use portable AVR programmer is available in this category...
Shipping to United States
Recorded Airmail: $9.75
Express: $19.00
Order Code
HH0110P
Price: $179.00
In Stock
Related Products
Parallel Port Starter kit for 256K Handheld AVR Programmer
Parallel Port version
Handheld AVR Programmer with 256KB of memory plus Parallel Port PC interface and software. Load the programmer from a PC using the PC interface and the simple Wizard Software and then the PC is not needed again. The AVR Hand Held Programmer is completely portable and you just plug it into your target PCB and program/verify Flash and/or EEPROM and Fuses on your target AVR microcontroller with a single button press. Supports up to 256KBytes of code and data EEPROM.
---
The PC interface is parallel port and only works on 32-bit Windows. A plug in parallel port card is available if your PC does not have a Parallel Port
PCI Serial and Parallel Card
A USB version of this programmer is available:
USB Handheld AVR Programmer Starter Kit
---
Software Features
supports Windows 95/98/2000/NT/ME/XP/Vista/7/8, 32-bit only
32-bit OS only
simple Wizard software for loading programmer
straightforward file selection for Flash and EEPROM
select program Flash only or EEPROM only or program both
most file formats can be loaded
Fuse and lockbit setting screen to easily set fuses
select AVR target Voltage, from 0-5V
click finish to load your AVR programmer
---
Starter Kit contents
Hand Held AVR Programmer with 256K code space
PC Interface (parallel port, LPT1)
Programmer adapter for loading code and settings
Ribbon cables with 10-way connector
Software CD
---
Handheld AVR Programmer Features
Hand-held AVR Programmer includes 9V PP3 battery
Can be used with power supply
Single button programming operation
Once loaded it programs targets for ever
Reload new programs as often as you need
Holds program code indefinitely
Supports all Fuse and Lock bit settings
Program/Verify Flash or EEPROM or both
Supports programming from 2.7 - 5.5V, depending on target Vcc
Can power target device (up to 150mA) or can draw power from target
Dimensions: Metric- 106mm x 58mm x 25mm
Dimensions: Imperial - 4.5 x 2.5 x 1 inches
256KB code space
---
This programmer should be used with Atmel recommended ISP circuits.
See Guide to AVR ISP Circuits for schematics of recommended AVR ISP circuits (new window).


---
AVR Microcontroller Support
Supports all Low Voltage (L, V, P, PA) AVR Devices as well

AT90S1200, AT90S2313, AT90S2323, AT90S2343, AT90S4433, AT90S4414, AT90S8535, AT90S8515
ATmega16, ATmega161, ATmega162, ATmega163, ATmega164P, ATmega165, ATmega168, ATmega169
ATmega32, ATmega323, ATmega324P, ATmega325, ATmega3250, ATmega329, ATmega3290
ATmega48, ATmega88, ATmega8, ATmega8515, ATmega8535
ATmega64, ATmega644, ATmega644P, ATmega645, ATmega6450, ATmega649, ATmega6490, ATmega640
ATmega103, ATmega128, ATmega1280, ATmega1281, ATmega2560, ATmega2561
ATtiny12, ATtiny15, ATtiny22, ATtiny26
ATtiny13, ATtiny2313, ATtiny24, ATtiny25, ATtiny44, ATtiny45, ATtiny84, ATtiny85
AT90CAN32, AT90CAN64, AT90CAN128, CANDIPM162, CANDIP8515, AT90PWM2/3, AT90PWM316
---
Extra 256K Hand Held AVR Programmers You only need one starter kit for as many programmers as you require

---
If you do not want to use the internal 9V PP3 battery, the power supply required is 9V with 300mA minimum and centre positive 2.1mm Barrel connector. These are available on the shop.
9V International Power supply
---
6-Way adapters
We now have adapters to convert from the standard Kanda 10-way header to different 6-way headers.
6-Way DIL adapter
6 x 1-way leads
6-Way Micromatch connector

---

A Quick start guide with recommended circuits and setup details can be downloaded here.
---
USB Version
Overview of Kanda AVR Programmer Range

See Guide to AVR ISP Circuits for schematics of recommended AVR ISP circuits (new window).




Ordering Information
| | | |
| --- | --- | --- |
| Ordering Information | Order Code: HH0110P | Price: $179.00 |
| Shipping to United States: | Recorded airmail - $9.75 | Express price - $19.00 |