Selected Category and Product:

Chips ICs and Modules » Wireless Modules » Bluetooth Wireless Modules » PARANI-ESD110
Secure Payment by

Serial to Bluetooth Module - Class 1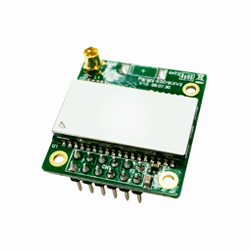 Embedded Bluetooth to Serial Module - class 1
Small module with twelve pins (DIL format)
Includes Antenna connector, cable and stub antenna
Other antenna options can be added
Support for Android smart phone connection
Shipping to United States
Recorded Airmail: $9.75
Express: $19.00
Order Code
PARANI-ESD110
Price: $55.00
In Stock
Embedded Bluetooth to Serial Module - class 1
The Parani class 1 Bluetooth to serial embedded module that is simple to incorporate into your product. This embedded module has twelve pins (DIL format)and includes an antenna connector, stub antenna and 15cm antenna cable. It is able to communicate with all Bluetooth devices, and provides a simple way of adding Bluetooth to your products.
Quantity discounts are available - contact sales
---
Embedded Bluetooth Features
Output Interface UART, Compliant Bluetooth Specification v1.1
Receiving Signal Range -84 to -20dBm
Compact size - Parani-ESD100: 27 x 27 x 14(mm)
Provides transparent RS232 serial cable replacement.
Supports Bluetooth Serial Port Profile and Generic Access Profile.
Interoperability with PDA, laptops etc.
Working distance: Nom. 100 meters, up to 1000m using patch antenna
Easy to use Windows configuration tool available.
AT Commands supported
No external drivers required.
---
Download User Manual (4MB ZIP file)
---
Details
UART Interface:
2.54mm Header 2x6
1200~230 Kbps
CTS/RTS flow control: Default
DTR/DSR for loop-back & full transfer
Bluetooth:
Bluetooth v1.1 Class I
Level - 18 dBm
Protocols - RFCOMM, L2CAP, SDP,
Profiles - General Access Profile, Serial Port Profile
Power Requirements: 3V~3.3V, minimum 150mA nominal power consumption of 26mA@9600bps and 29mA@115Kbps speed
Approvals: Bluetooth 1.1, FCC, CE
Works with Sena BTerm App for Android Smart Phones

Working Distances
The range of the modules with the default stub antenna is 100m. Other antenna options are available, giving these distances:
Default Antenna - Default Antenna 100 meters
Default Antenna - Dipole Antenna 150 meters
Dipole Antenna - Dipole Antenna 200 meters
Patch Antenna - Dipole Antenna 400 meters
Patch Antenna - Patch Antenna 1,000 meters



Contents
ESD-01 Bluetooth Module with Antenna connection
Stub Antenna
15cm antenna lead
---
Starter Kit
A Starter Kit is available to get you going with these modules - see
Embedded Class 1 Bluetooth Module Starter Kit
---
Documents
Agency Approvals - FCC, CE 4MB
User Manual Zipped PDF 4MB



Ordering Information
| | | |
| --- | --- | --- |
| Ordering Information | Order Code: PARANI-ESD110 | Price: $55.00 |
| Shipping to United States: | Recorded airmail - $9.75 | Express price - $19.00 |