Selected Category and Product:


Starter Kits » Starter Kit Accessories » MICRO-X-PROTO2
Secure Payment by

Large MICRO-X Prototype Board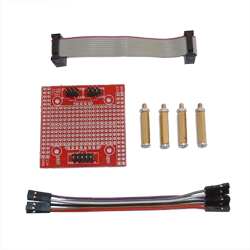 Prototyping Board
Supplied with mounting pillars, 10-way lead and flying leads
Fitted with 1 10-way and 2 6-way pinheaders
2 separate power rails plus 160 holes
Decoupling capacitors for power
Shipping to United States
Recorded Airmail: $15.00
Fedex Express: $25.00
Order Code
MICRO-X-PROTO2
Price: $4.50
In Stock
Related Products
Large Prototyping Board for MICRO-X or STK200-X Kit
Large prototyping board with 4 mounting holes and 4 standoff pillars for mounting on MICRO-X kit. It has 2 power rails with VCC and GND, fitted with decoupling capacitors. There are 2 6-way and one 10-way pin headers for easy connection to the microcontroller board.
Dimensions: 50mm x 50mm (2" x 2") with 160 plated-through holes (16 x 60) plus 2 power rails each with 18 VCC and 18 GND connections.
Contents:
Main prototyping board fitted with 2 6-way and 1-way pin headers
4 mounting pillars, screws and nuts
1 10-way ribbon cable
6 flying leads
Ordering Information
| | | |
| --- | --- | --- |
| Ordering Information | Order Code: MICRO-X-PROTO2 | Price: $4.50 |
| Shipping to United States: | Recorded airmail - $15.00 | Fedex Express - $25.00 |