Selected Category and Product:

Starter Kits » Starter Kit Accessories » MICRO-X-PROTO1
Secure Payment by

Prototype board for MICRO-X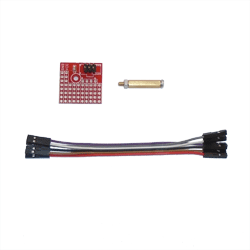 Small prototyping board
25 x 25mm (1" x 1")
Separate GND and VCC rails with decoupling capacitor
6-way pin header for I2C or general I/O
Supplied with mounting pillar and 6 flying leads
Shipping to United States
Recorded Airmail: $9.75
Express: $19.00
Order Code
MICRO-X-PROTO1
Price: $3.50
In Stock
Related Products
Small Prototype board for MICRO-X and STK200-X
Prototyping board with mounting pillar, 6-way pin-header and 6 flying leads for easy connection to MICRO-X or STK200-X board. Separate ground and power rail fitted with decoupling capacitor.

6-way pin header for I2C or 4 general I/O lines with VCC and GND pins. Ideal for small circuits such as sensors, I2C chips or small relays.

Dimensions: 25 x 25mm (1" x 1") with 40 PTH holes (8 x 5) and 8 GND and VCC connections.


Ordering Information
| | | |
| --- | --- | --- |
| Ordering Information | Order Code: MICRO-X-PROTO1 | Price: $3.50 |
| Shipping to United States: | Recorded airmail - $9.75 | Express price - $19.00 |