OMEGA Advanced Logic Analyser
The OMEGA logic Analyser uses Hi-speed USB communications for super fast data collection. It is plug and play for ease of installation. This tool has a huge event memory so you can capture all the data you need. It is has 16 input channels, running at up to 400MHz to capture the fastest event. Omega Logic Analysers can be linked together if you need more channels.
Omega Main Features
Supports all Windows and Linux (Wine)
Huge 512 megabit event memory
Real-time hardware data compression to increase storage
Up to 400 MHz sample speed
Up to 16 inputs but expandable with more units and synchronization header
Flexible trigger options
"Logic probe" mode
USB (High-Speed, 480 Mbps)
Powered by USB so no power supply is necessary
Advanced Windows and Linux software
Omega Detailed Description
Huge event memory
The Omega logic analyser is fitted with a massive 512 Mbit SDRAM event memory, and coupled with the on-board hardware data compression, this allows millions of events to be stored. Alternatively, with only a few input changes, data can be stored for up to 77 minutes, as no data memory is used if inputs are still. As an example, 10 million I2C transfer bits can be stored!
Complex trigger logic
As well as the massive data memory, the Omega's flexible trigger logic lets you capture exactly the data you need to see. The 8-input 400MHz mode has less trigger options, just trigger on input signal edge but 16 input 200MHz mode has lots of options including
Any value or edge on any input condition
Defined duration of the condition ("longer than" and/or "shorter than")
Sequence of two different conditions
16-bit counter - triggering after N-th occurence of the condition
Extensive condition definition options using logical functions (N)AND,(N)OR,(N)XOR
Trigger points can be placed at any point in the recorded events, from start to finish giving lots of pre-trigger data if needed.
Flexible input/sample speed options
16 inputs at 200 MHz
8 inputs at 400 MHz
15 inputs + 1 synchronous clock input (trailing or falling edge), clock speed from 1 MHz to 99.9 MHz, asynchronous time scale
You can measure more than 16 inputs simultaneously by adding more Omegas, that are linked together using a synchronization header and synchonization cable. The guaranteed accuracy of synchronization with multiple analysers is ±5 ns for two analyzers and ±10 ns for three analyzers in a chain.
Omega Advanced software
Ready for plugins - both ASIX and user definable, e.g. protocol analyzers (like I2C, SPI, UART, Full-Speed and Low-Speed USB, ...)
Ready for easy multi-language support (not applicable for plugins)
Waveforms can be saved and loaded to a file
Waveforms can be exported to a text file for further processing
Waveforms can be printed
Flexible trace definition (any combination of input signals and constant logic levels) and trace representation (signals, buses - binary, octal, decimal, hexadecimal, ASCII). Input signal can be used in more than one trace
Free protocol analyzers for UART, I2C and SPI included
USB protocol analyzer (Low-Speed and Full-Speed) can be purchased separately, contact sales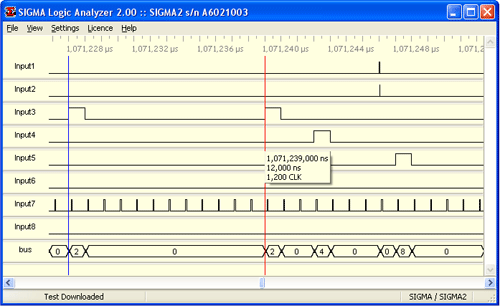 Omega Summary
Simple High-Speed USB interface
Power supplied by USB so no power supply adapter needed
Logic probe mode - OMEGA displays momentary logic levels on all 16 inputs
LED instantly report status
Very fast operation, less than 1 second delay for any selected view. Full data download can take a few seconds
Input threshold level is suitable for TTL, LVTTL and 2.7 to 5.5V CMOS levels
Upgradable - the flexible design, based on Xilinx FPGAs, allow simple software updates to improve Omega in the future, e.g. frequency, period and duty cycle measurement
Small, lightweight and compact.
Using Omega with Linux
Example waveforms