Selected Category and Product:


Starter Kits » Starter Kit Accessories » MICRO-X-LCD
Secure Payment by

Micro-X LCD Module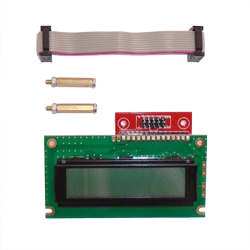 16 x 2 character LCD Module
LCD screen 61 x 16mm
PCB size 83 x 45mm
PCB mounted with mounting pillars
Includes 10-way ribbon cable
Shipping to United States
Recorded Airmail: $15.00
Fedex Express: $25.00
Order Code
MICRO-X-LCD
Price: $12.50
In Stock
Related Products
LCD Module for MICRO-X or STK200-X Kit
16 x 2 character LCD module with mounting holes, pillars and 10-way ribbon cable for connection to Kanda MICRO-X or STK200-X board. Both MICRO-X and STK200-X kits come with tutorials and sample code to program the LCD in assembler and C code.

This module is green.


Ordering Information
| | | |
| --- | --- | --- |
| Ordering Information | Order Code: MICRO-X-LCD | Price: $12.50 |
| Shipping to United States: | Recorded airmail - $15.00 | Fedex Express - $25.00 |