Selected Category and Product:

Starter Kits » Starter Kit Accessories » MICRO-X-BLUETOOTH
Secure Payment by

MICRO-X Bluetooth UART Module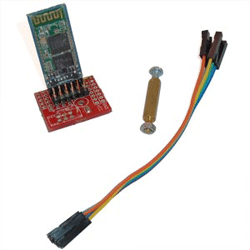 Bluetooth Module with On-board antenna
Appears as serial port
Easy connection to MICRO-X or STK200-X
Supplied with cables and mounting pillar
3.3V operation
Shipping to United States
Recorded Airmail: $9.75
Express: $19.00
Order Code
MICRO-X-BLUETOOTH
Price: $12.99
In Stock
Related Products
MICRO-X and STK200-X Bluetooth UART Module
Bluetooth serial port convertor that connects to serial port of the PIC or AVR microcontroller. The module appears as a UART on the microcontroller and standard UART code will communicate with it.
Example PIC C UART Code
Example AVR C UART Code
Just connect the 5 wires supplied to the UART Port on the MICRO-X board.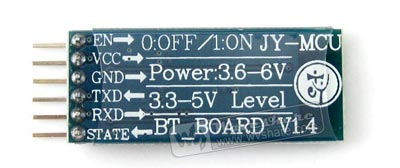 The module is 3.3V only so you will need 1K series resistors to connect to 5V system.
First, configure the module using the serial port and AT command set. Run your PC Bluetooth software and search for devices. When it finds the module, open a Bluetooth serial port and you will have a normal serial port connection.
Documentation
This opens in a new window.
Ordering Information
| | | |
| --- | --- | --- |
| Ordering Information | Order Code: MICRO-X-BLUETOOTH | Price: $12.99 |
| Shipping to United States: | Recorded airmail - $9.75 | Express price - $19.00 |