Selected Category and Product:


Training and Books » Target-Evaluation Boards » MICRO-X-BOARD
Secure Payment by

PIC Development Board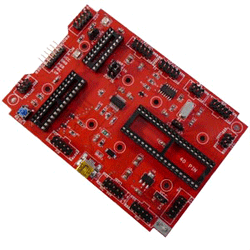 Supports PIC16F and PIC18F microcontrollers
8, 14, 20, 28 and 40-pin devices supported
3.3 and 5V support
USB connection, powered by USB, PICKit3 or pin headers
PICKit3 interface
Shipping to United States
Recorded Airmail: $15.00
Fedex Express: $25.00
Order Code
MICRO-X-BOARD
Price: $15.99
In Stock
Related Products
Low Cost PIC Development Board
This board is ideal for developing PIC microcontroller projects. It has socket support for all 8, 14, 20, 28 and 40-pin PIC microcontrollers. Both PIC16F and PIC18F series are supported.
Board Features
40-pin, 28-pin and 8,14,20-pin sockets
All PORT pins available on pin headers
3.3 and 5V voltage support
Separate GND and VCC pins for easy connection
8MHz crystal - can be increased to 32MHz with PLLEN bit
PICKit3 interface
Adapter for RJ11 programmer/debugger available
USB serial port interface, Mini USB connector
Board powered by PICKit3, by USB port or 5V to pin headers
2 I2C headers for I2C chain
Reset Button
Ordering Information
| | | |
| --- | --- | --- |
| Ordering Information | Order Code: MICRO-X-BOARD | Price: $15.99 |
| Shipping to United States: | Recorded airmail - $15.00 | Fedex Express - $25.00 |