Selected Category and Product:


Chips ICs and Modules » PIC Microcontrollers » PIC16F1789
Secure Payment by

PIC16F1789 Microcontroller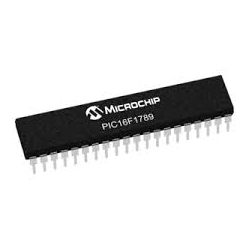 Latest generation 40-pin PIC microcontrller
28KB Flash plus EEPROM
Wide voltage range and low power
14 12-bit ADC channels
DAC, PWM and much more
Shipping to United States
Recorded Airmail: $15.00
Fedex Express: $25.00
Order Code
PIC16F1789
Price: $3.90
In Stock
Related Products
Microchip PIC16F1789 Microcontroller
Latest generation Microchip PIC microcontroller in 40-pin DIP package. Low power consumption, fast up to 32MHz, 28KB program memory, EEPROM and 12-bit ADC. This new device eats older PIC microcontrollers like PIC16F877 for breakfast.
Features
Enhanced Mid-Range Core with 49 Instruction, 16 Stack Levels
Flash Program Memory with self read/write capability
256 Bytes of EEPROM
Internal 32MHz oscillator
4 x PSMC (Programmable Switch Mode Controller)- Dedicated 16bit PWM- Digital and/or analog feedback control of PWM frequency- Dead-band control / auto-shutdown & restart
4 x Fast Comparators with selectable Voltage Reference
3 x Operation Amplifiers (rail-to-rail in and out)
14 x 12-bit ADC with Voltage Reference
8-bit DAC
3 x 5-bit DAC
MI2C / SPI / EUSART w/auto baud
3 x Compare-Capture-PWM
Two 8-bit Timers (TMR0/TMR2)
One 16-bit Timer (TMR1)
Extended Watchdog Timer (EWDT)
Wide Operating Voltage Range:- 'F' Version (2.3V – 5.5V)- Low Power 'LF' variant (1.8V – 3.6V)
25mA Source/Sink current I/O
Enhanced Power-On/Off-Reset
Brown-Out Reset (BOR)
In Circuit Serial Programming (ICSP)
PIC16F1789 Training Kit
Our latest PIC microcontroller training kit is based on the PIC16F1789 as we believe it is an excellent chip for beginners. This kit has full tutorials, lots of sample code and all the hardware you need to understand microcontroller programming, including embedded C programming, and go on to develop your own projects.
PIC MICRO-X Training Kit
Ordering Information
| | | |
| --- | --- | --- |
| Ordering Information | Order Code: PIC16F1789 | Price: $3.90 |
| Shipping to United States: | Recorded airmail - $15.00 | Fedex Express - $25.00 |