Selected Category and Product:


PC Interfaces » Bluetooth Wireless » PARANI-SD1000-B10
Secure Payment by

SD1000-B1 Serial to Bluetooth Converter Bulk Pack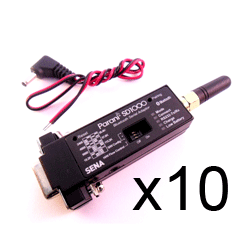 Pack of 10 units with antenna and DC power cable
Provides transparent RS232 serial cable replacement
Open field working distance: 100 metres, up to 1000m using patch antenna
Up to 4 multiple connections
Works with Sena BTerm App for Android smart phones
Easy-To-Use Windows configuration tool and pairing buttons
Shipping to United States
Recorded Airmail: $18.50
Fedex Express: $28.00
Order Code
PARANI-SD1000-B10
Price: $1,433.00
In Stock
Related Products
Parani SD1000-B10 Serial to Bluetooth Converter Bulk Pack
This is the latest generation of Bluetooth adapters, using Bluetooth v2.0 + EDR. This pack of 10 BLUETOOTH v2.0 TO RS232 Adapters comes with stub antennas and DC power lead but no power supply unit. It can be fitted with optional battery packs. They are a class 1 Bluetooth device with long range and data speed plus a number of antenna options for range from 100m to over 1Km.
Ideal for connecting one or more serial port products to PC using serial port or USB port, see
Overview of Bluetooth Wireless Solutions
Parani SD1000-00 Features - BLUETOOTH v2.0 TO RS232 Adapter
BLUETOOTH v2.0 TO RS232 Adapter - Specification v2.0 + EDR
Provides transparent RS232 serial cable replacement
Basic Transmit Power : Max. +18dBm, EDR Transmit Power : Max. +6dBm
Receiving Sensitivity : -88dBm(0.1%BER)
Supports Bluetooth profiles SPP(Serial Port Profile)
Inter-operability with PDA, laptops etc.
Supports firmware upgrade via windows-based software(ParaniUpdater)
Working distance ( In an open field ) : Nom. 100 meters, up to 1000m using patch antenna
Enhanced portability : standard & extended battery pack options
Easy to use Windows configuration tool available.
No external drivers required for the BLUETOOTH v2.0 TO RS232 Adapter
Pairing button to lock to units together
No power supply, antenna or leads in this version
Works with Sena BTerm App for Android Smart Phones
PARANI-SD1000-00 Kit Contents
SD1000 : 10 x SD1000 Bluetooth-serial adapter
DPA-G01 : 10 x Parani-DPA DC power cable for SD series
SAT-G01R : 10 x 1 dBi Stub Antenna - RP-SMA Plug Right-hand Thread
Serial to Bluetooth Converter Specification
Parani-SD1000
Serial Interface
Serial speed up to 921.6kbps
CTS/RTS flow control, DTR/DSR for loop-back & full transfer
Bluetooth Interface
Bluetooth v2.0 + EDR
Class 1
Profiles - SPP

Working distance (in open field)

SAT-G01R
SAT-G01R
DAT-G01R
DAT-G01R
DAT-G01R
DAT5-G01R
DAT5-G01R
PAT-G01R
-
-
-
-
-
-
-
-
SAT-G01R
DAT-G01R
DAT-G01R
DAT5-G01R
PAT-G01R
DAT5-G01R
PAT-G01R
PAT-G01R
100 meters
150 meters
200 meters
300 meters
500 meters
400 meters
600 meters
1,000 meters


[Antennas]
SAT-G01R : +1dBi Stub Antenna
DAT-G01R : +3dBi Dipole Antenna
DAT5-G01R : +5dBi Dipole Antenna
PAT-G01R : +9dBi Patch Antenna
Max. Tx power
+18dBm
Receive
Sensitivity
-88dBm
Antenna gain
Stub : +1dBi, Dipole : +3dBi, Dipole : +5dBi, Patch : +9dBi
Configuration
ParaniWin, ParaniUpdater
Modem AT command set
Diagnostic LED
- BT Status (mode)
- Connect
- RS232-RX/TX
- Charging/Done (Battery Charging/ Battery Charging completed)
- Low Battery
Power
Power input : 5~12VDC
Power Consumption : Minimum 2mA, Maximum 80mA
Environmental
Operating temperature: -20'C to 70'C
Storage temperature: -40'C to 85'C
Humidity: 90% Non-condensing
Physical properties
Dimension(LxWxH):
76 x 31 x 16 (mm) (No battery pack)
76 x 31 x 19.5 (mm) (with standard battery pack)
76 x 31 x 31.4 (mm) (with extended battery pack)
Weight:
24 g (No battery pack)
30 g (with standard battery pack)
42 g (with extended battery pack)
Battery
Capacity
240 mAh(standard)
900 mAh(extended)
Charging Power
minium 5V/200mA
Charging Time
Approximately 2 hours (Standard)
Approximately 5 hours (extended)
Battery Life
Test based on 9600 bps data loopback. Actual battery life varies by configuration, operating conditions and other factors
- Approximately 4.5 hours (standard)
- Approximately 16.5 hours (extended)
Regulatory
Approvals
CE, FCC, TELEC, MIC
Warranty
3-year Limited Warranty
A Power Supply unit or wall transformer is available for the PARANI-SD1000 as well as standard and Extended battery options
PARANI-SD1000 User Manual
(new window)
Overview of Bluetooth Wireless Solutions
Ordering Information
| | | |
| --- | --- | --- |
| Ordering Information | Order Code: PARANI-SD1000-B10 | Price: $1,433.00 |
| Shipping to United States: | Recorded airmail - $18.50 | Fedex Express - $28.00 |