Selected Category and Product:

Programmers-Burners » Hand Held Programmers » Handheld Serial EEPROM » HH0120EE
Secure Payment by

USB Handheld Serial EEPROM Programmer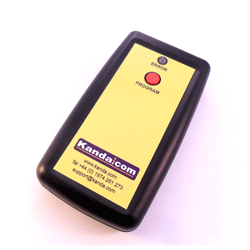 Handheld programmer with 1 button operation
Programmer only, see Starter Kit for PC loader
Supports 24 or 25 series serial EEPROMs
Programmer can power target
Ideal for manufacturing and product updates
Shipping to United States
Recorded Airmail: $9.75
Express: $19.00
Order Code
HH0120EE
Price: $149.00
In Stock
Related Products
USB Hand Held Programmer for Serial EEPROMs
A very simple to use HandHeld Programmer that is loaded from the PC using the Starter Kit. Once the programmer is loaded with device information and data, then you just plug it into your target circuit and press the red button.
Programmer can power target device, so it can be used to program EEPROMs that are separate from other circuitry e.g. tags for QA purposes, or EEPROMs included in a circuit e.g. attached to a microcontroller
Serial EEPROM Programmer Features
Compact, portable and easy to use
One button operation
Supplied with 9V PP3 battery
Power supply connector (2.1mm, centre positive)
Programmer can power target up to 150mA or draw power from target
Supports low voltage and 5V serial EEPROMs
Loaded from PC using simple Wizard Software and USB PC adapter supplied with starter kit - supports Windows 2000, XP, ME, Vista and 7, 32 and 64bit
Erase, program, verify and lockbits supported
Includes Microcontroller reset line to isolate MCUs in circuit
Non-volatile memory keeps data even with flat battery
Serial EEPROM Support
All 24C I2C and 25C SPI family EEPROMs are supported. The serial EEPROM handheld Programmer has these device support features:
Supports low voltage variants
Address bus to select an individual device in multiple circuits
User selectable page size as the same device from different manufacturers, or even variants of the same device, can have different programming page sizes
Microcontroller Reset line to isolate microcontrollers connected to EEPROMs - low or high reset polarity
Programmer has up to 256KB data size
Contact support for information on other device families
supports 24C and 25C serial EEPROMs from Atmel, Microchip, ST, Catalyst and others
Supports 24 series, I2C Serial EEPROMs and 25 series, SPI Serial EEPROMs.
Does NOT support 93 series, see EEISP-U.
Physical
Dimensions: 106 x 58 x 25mm, 4.5 x 2.5 x 1 inches
Includes 9V PP3 battery
Power supply requirements: 9V regulated, 2.1mm barrel connector, centre positive - see below for suitable power supply.
Documentation
This opens in a new window.
Ordering Information
| | | |
| --- | --- | --- |
| Ordering Information | Order Code: HH0120EE | Price: $149.00 |
| Shipping to United States: | Recorded airmail - $9.75 | Express price - $19.00 |