Selected Category and Product:

Programmers-Burners » In System Programmers (ISP) » Serial EEPROM Programmers » EE-BOARD-SMD
Secure Payment by

EEPROM ZIF Board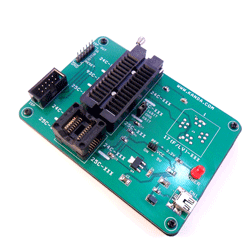 Supports 24, 25 and 93 families
Used with EEISP-U programmer
DIL ZIF and SOIC sockets
Powed by supplied USB lead
3.3 or 5V operation
Shipping to United States
Recorded Airmail: $9.75
Express: $19.00
Order Code
EE-BOARD-SMD
Price: $45.00
In Stock
Related Products
Serial EEPROM Programming Board
Programming board for use with Kanda serial EEPROM ISP programmer (EEISP-U). Allows devices to be programmed in a socket, either DIL or SOIC.
Board has 28-pin ZIF socket for 8-pin DIL parts, with different programming positions for 24, 25 and 93 series devices. It also has a SOIC socket for 8-pin 24 and 25 series devices in 8-pin SOIC package.
Board is powered by the supplied mini-USB lead. Board voltage can be set to 3.3 or 5V using a jumper.
Ordering Information
| | | |
| --- | --- | --- |
| Ordering Information | Order Code: EE-BOARD-SMD | Price: $45.00 |
| Shipping to United States: | Recorded airmail - $9.75 | Express price - $19.00 |