Selected Category and Product:

Programmers-Burners » In System Programmers (ISP) » Serial EEPROM Programmers » EE-BOARD-AT17
Secure Payment by

AT17 Programming Board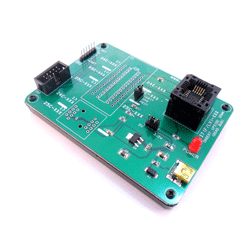 Used with EEISP-U ISP programmer
Supports AT17LVxxx and AT17Fxxx devices
20-pin PLCC socket fitted
3.3V or 5V supply
Powered by supplied mini-USB lead
Shipping to United States
Recorded Airmail: $9.75
Express: $19.00
Order Code
EE-BOARD-AT17
Price: $29.00
In Stock
Related Products
AT17 Programming Board
Programming board with socket for AT17 FPGA configurators in 20-pin PLCC package. The EEISP-U ISP programmer connects to the header on the board making this a socket programmer.
Power
Board is powered by the supplied mini-USB lead. Board voltage can be set to 3.3 or 5V using a jumper.
Socket
The socket is for all AT17 configurator EEPROMs in 20-pin PLCC package. It is a "Dead Bug" socket, which means that the device is fitted upside down. This layout gives better device insertion and removal than cheap PLCC sockets that can easy damage device pins.
Ordering Information
| | | |
| --- | --- | --- |
| Ordering Information | Order Code: EE-BOARD-AT17 | Price: $29.00 |
| Shipping to United States: | Recorded airmail - $9.75 | Express price - $19.00 |