Selected Category and Product:

Programmers-Burners » In System Programmers (ISP) » AVR ISP Programmers » AVRISP-MKII
Secure Payment by

AVR ISP MKII Programmer (ISP, Xmega, TDI)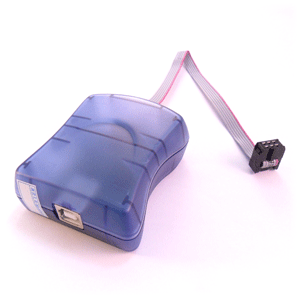 Fully integrated with AVRStudio
Supports ATtiny, ATmega and ATXmega microntrollers
Simple plug and play USB
Firmware updates through AVRStudio
Range of clock frequencies and voltage
Shipping to United States
Recorded Airmail: $9.75
Express: $19.00
Order Code
AVRISP-MKII
Price: $46.00
In Stock
Related Products
AVRISP MKII AVR Programmer
Low cost AVR programmer for programming all AVR microcontrollers using in system programming from AVRStudio development environment. The AVRISP mk2 has support for all AVR devices using serial programming and also supports Xmega PDI interface and ATtiny TDI interface.
Atmel have stopped making their ATAVRISP2 programmer but this Waveshare version is completely compatible with the original Atmel one.
AVRISP mkII Main Features
Programs flash and EEPROM memories
Fuses and lock bit programming included
Firmware can be upgraded from AVRStudio
Supports AVRStudio 4.12 on, AVRStudio 5 and 6
Target voltages from 1.8V to 5.5V
User Adjustable ISP programming speed (50Hz to 8MHz SCK frequency)
USB 2.0 compliant (full speed, 12Mbps)
USB powered, does not require external power supply
Includes target protection and short circuit protection
Compact plastic case
USB cable included
Uses Atmel Jungo USB drivers
AVR Microcontroller Support
ATmega and ATtiny families, ISP interface
AT XMega Family
ATtiny with TDI programming interface
Does NOT support old AT90S AVR microcontrollers
This product is not manufactured by Atmel, as Atmel have stopped production of their ATAVRISP2 programmer. It is 100% compatible with the ATISPMK2 and uses AVR Studio software and Atmel Jungo USB drivers. AVR Studio will see it as an Atmel programmer, including the firmware updater.
Documentation
For standalone AVR programming (without AVRStudio), more AT90S support, JTAG programming and production programmers, please see
AVR Programmer Comparison
Atmel Documents
AVR Programmer Comparison
AVR ISP Circuits
for target ISP layouts and recommended circuits.
Ordering Information
| | | |
| --- | --- | --- |
| Ordering Information | Order Code: AVRISP-MKII | Price: $46.00 |
| Shipping to United States: | Recorded airmail - $9.75 | Express price - $19.00 |