Selected Category and Product:

Programmers-Burners » Keyfob Mini Programmers » Keyfob AT89S Programmers » 89KF0020
Secure Payment by

89 Series Keyfob Programmer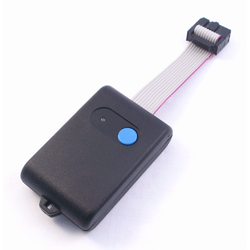 Individual Keyfob Mini-programmer for AT89S Microcontroller
A completely portable programmer for In System Programming of 89S flash microcontrollers, for field and production use. This programmer comes in a key fob case and has one button
Shipping to United States
Recorded Airmail: $9.75
Express: $19.00
Order Code
89KF0020
Price: $94.80
Discontinued
Individual Keyfob Mini-programmer for AT89S
A completely portable programmer for In System Programming of 89S flash microcontrollers, for field and production use. This programmer comes in a key fob case and has one button operation to eliminate operator errors. Removes the need for a PC on the production line or in the field.
Just load using the
AT89S Keyfob Mini-programmer Starter Kit
---
Miniture hand-held 89S programmer, battery powered
Single button operation
Dimensions: Metric- 45mm x 35mm x 15mm - 28g
Dimensions: Imperial - 1.8 x 1.4 x 0.5 inches - 1 oz
Easy to load, easy to use
Reprogram as many times as you need
Holds program code indefinitely
---
Device Support
---
You will need a Starter Kit to load this key fob programmer. One Starter Kit will allow you to load as many 89S Keyfob Mini-programmers as you want. The Starter kit comes complete with an 89S Keyfob Mini-programmer.
Starter Kit
---
6-Way adapters
We now have adapters to convert from the standard Kanda 10-way header to different 6-way headers.
6-Way DIL adapter
6 x 1-way leads
6-Way Micromatch connector
Ordering Information
| | | |
| --- | --- | --- |
| Ordering Information | Order Code: 89KF0020 | Price: $94.80 |
| Shipping to United States: | Recorded airmail - $9.75 | Express price - $19.00 |