Keyfob Mini Programmers for AVR, PIC, ST7, COP8 and AT89S microcontroller programming.

Keyfob Standalone Programmers for programming a range of microcontrollers in the field, including AVR, PIC, ST7 and COP8 microcontrollers


Products in this category
Batteries for Keyfob Programmers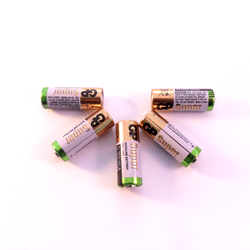 Batteries for Keyfob Programmers- 5 Pack
Pack of 5 12V batteries for keyfob programmers. These batteries fit PIC, AVR and Serial EEPROM keyfob...
Order Code
BAT-KF
Price: $5.00
Kanda Keyfob Programmers are standalone programmers in a keyfob case. Small, low cost with a single button to program target, they are the ideal programmer for field updates. Load from PC and then they are completely standalone and so easy to use.

Keyfob programmers are available for AVR, ST7, PIC, COP8 and AT89 series microcontrollers.