Selected Category and Product:


PC Interfaces » USB Interfaces » W-USB232-485
Secure Payment by

USB to RS232, TTL and RS485 Converter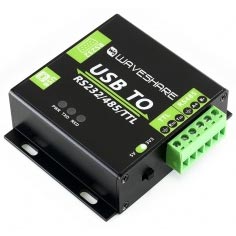 USB to RS232, RS485 and TTL
Fully isolated for industrial use
Supplied in aluminium case
Muliple interfaces can be used together
Fast, stable and reliable communications
Shipping to United States
Recorded Airmail: $15.00
Fedex Express: $25.00
Order Code
W-USB232-485
Price: $22.99
In Stock
Related Products
Industrial USB to RS232, RS485 and TTL Converter
This is an industrial USB to RS232/485/TTL isolated converter. It has embedded protection circuits such as power isolation, ADI magnetic isolation, and TVS diode, etc. What's more, the USB TO RS232/485/TTL has an aluminium alloy enclosure, making it solid and durable for industrial applications.
The USB TO RS232/485/TTL is very easy to use, fully automatic with no delay on transceiving. Due to its fast communication, stability, reliability, and safety, it is an ideal choice for industrial control equipment and/or applications with high communication requirements.
>h2>Main Features
USB TO RS232, USB TO RS485, USB TO TTL (UART)
Uses FT232RL USB chip, fast communicating, stable and reliable, with wide compatibility
Onboard uni-body power supply isolation, provides stable isolated voltage, no extra power supply required for the isolated terminal
Onboard uni-body magnetical isolation, allows signal isolation, high reliability, strong anti-interference and low power consumption
Onboard TVS (Transient Voltage Suppressor), effectively suppress surge voltage and transient spike voltage in the circuit, lightning-proof & anti-electrostatic
Onboard self-recovery fuse and protection diodes, ensures stable current/voltage outputs, provides over-current/over-voltage protection and improves shock resistance
Fully automatic transceiver circuit with no delay, ensures the USB port communicates with different interfaces fast and stabily, without interfering each other
Onboard TTL serial 3.3V/5V voltage translator, configures the TTL level via switch
Aluminium alloy enclosure with sand blasting and anodic oxidation, CNC process opening, solid and durable
3 LEDs indicating the power and transceiver status
High quality USB-B and RS232 connectors smoothly plug/pull
Specifications
Product type: industrial optically isolated converter
Baudrate: 300-921600bps
Host port: USB
Device port:  RS485/RS232/TTL
USB:

Operating voltage: 5V
Connector: USB-B
Protection: 200mA self-recovery fuse, isolated output
Transmission distance: ~5m

RS485:

Connector: screw terminal
Pins: A+, B-, GND
Direction control: hardware automatic control
Protection: 600W lightning-proof and surge-suppress, 15KV ESD protection (reserved 120R balancing resistor solder pads)
Transmission distance: ~1200m
Transmission mode: point-to-multipoints (up to 32 nodes, it is recommended to use repeaters for 16 nodes or more)

RS232:

Connector: DR9 male
Protection: TVS diode, surge protection, ESD protection
Transmission distance: ~15m
Transmission mode: point-to-point

TTL (UART):

Operating voltage: 3.3V/5V
Connector: screw terminal
Pins: TXD, RXD, GND
Protection: clamp protection diode, over-voltage/negative-voltage proof, shock resistance
Transmission mode: point-to-point

LED indicators:

PWR: red power indicator, light up when there is USB connection and voltage is detected
TXD: green TX indicator, light up when the USB port sends data
RXD: blue RX indicator, light up when the device ports send data back

Operating environment:

Temperature: -15℃ ~ 70℃
Humidity: 5%RH ~ 95%RH

Operating system: Windows 10 / 8.1 / 8 / 7 / XP
Dimensions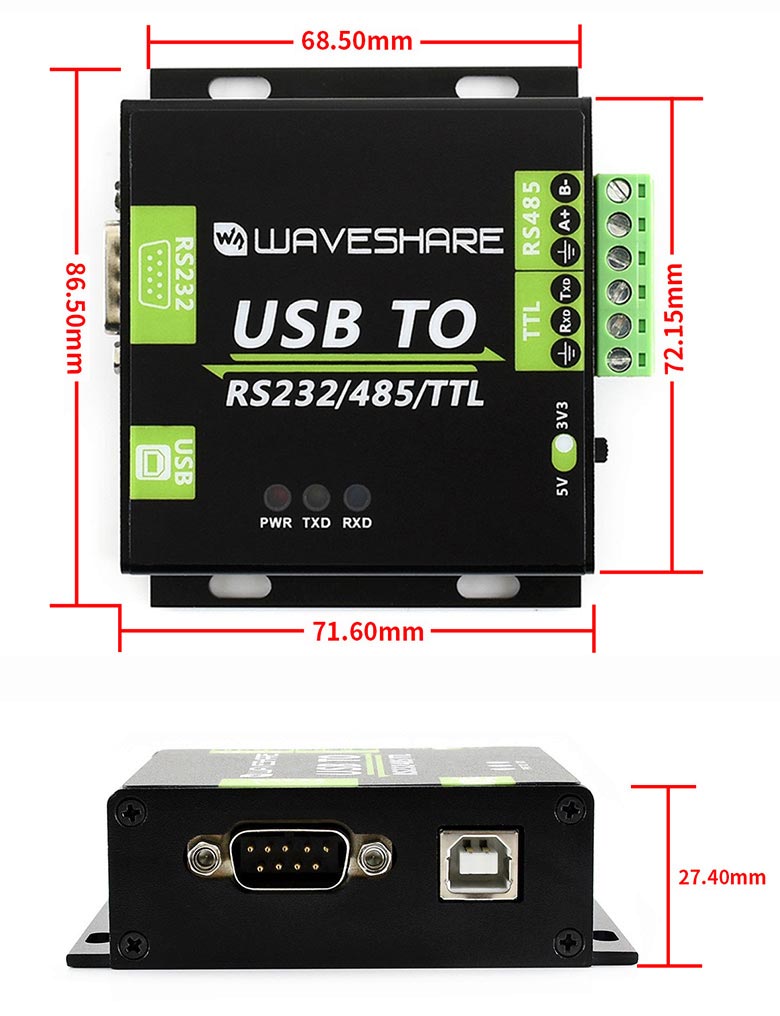 Development Resources
Waveshare Development Pages
Ordering Information
| | | |
| --- | --- | --- |
| Ordering Information | Order Code: W-USB232-485 | Price: $22.99 |
| Shipping to United States: | Recorded airmail - $15.00 | Fedex Express - $25.00 |