USB to Bluetooth serial Adapter
The Parani-SD1000U is a class 1 type Bluetooth USB adapter for Serial Port Replacement that supports 300 meters of wireless transmission distance by default. The working distance can be further extended up to 1000 meters using different antenna options. It is suitable for industrial and special applications because it has a longer communicaiton distance (1000m) than regular Bluetooth USB adapters.
Allows up to 4 serial devices to be connected to PC USB port by Bluetooth wireless
USB Bluetooth Features
Bluetooth Specification v2.0 + EDR Class 1
Working distance (In an open field): Normally 300 meters, up to 1000m using patch antenna
USB 2.0 interface
Supports Windows, Linux, Mac OS and Windows CE.NET operating systems.
No Bluetooth driver required. (No Toshiba or BlueSoleil driver required.)
Provides transparent RS232 serial cable replacement for PC
Supports Bluetooth Serial Port Profile (SPP)
Supports up to 4 multiple simultaneous connections
Interoperability with laptops, PDA terminals etc.
Easy to use Windows configuration tool available.
Remote configuration support
Pairing button can also be used to pair Parani- SD1000U with any Bluetooth device that supports Bluetooth Serial Port Profile eg PARANI-SD1000 Serial to Bluetooth adapter.
Using DIP switch, serial port parameters and flow control options can be easily configured without host computer
Can connect to serial Bluetooth modules - PARANI-ESD1000 for your own PCBs
Works with Sena BTerm App for Android Smart Phones
USB Bluetooth Serial Adapter Specification
Parani-SD1000U
Standards
- Bluetooth 2.0+EDR Class 1
- USB 2.0
Max Transfer Rate
3 Mbps (EDR)
Frequency Range
2.402 ~ 2.480GHz
Transmit Output Power
+18dBm
Receive Sensitivity
- Basic 1Mbps: -90dBm
- EDR 2Mbps: -88dBm
- EDR 3Mbps: -87dBm
Diagnostic LED
- Mode
- Connect
- Serial-Rx/Tx
Antenna Connector
RP-SMA
Antenna Gain
- Default Stub Antenna: 1 dBi
- Optional Dipole Antennas: 3 dBi & 5 dBi
- Optional Patch Antenna: 9 dBi
Working Distance
(In Open Field)

Stub Antenna
Dipole Antenna (3 dBi)
Dipole Antenna (5 dBi)
Patch Antenna
-
-
-
-
Stub Antenna
Dipole Antenna (3 dBi)
Dipole Antenna (5 dBi)
Patch Antenna
300 meters
400 meters
600 meters
1,000 meters

Driver Software
FTDI(FT232R) USB-Serial driver in public domain
(http://www.ftdichip.com/Drivers/VCP.htm)
No Toshiba or BlueSoleil driver required.
Supported Bluetooth Profiles
Serial Port Profile (SPP)
Computer OS Support
- Windows 8, 10, 11
- Windows 7
- Windows 7 x64
- Windows Server 2008
- Windows Server 2008 x64
- Windows Vista
- Windows Vista x64
- Windows Server 2003
- Windows Server 2003 x64
- Windows XP
- Windows XP x64
- Windows 2000
- Windows ME
- Windows 98
- Linux
- Mac OS X
- Mac OS 9
- Mac OS 8
- Windows CE.NET (Version 4.2 and greater)
Environmental
Operating Temperature: -20˚C ~ +70˚C
Storage Temperature: -40˚C ~ +85˚C
Humidity: 95% Non-condensing
Physical properties
Dimension(LxWxH):

68 mm x 22 mm x 11.5mm (2.6 in x 0.8 in x 0.4 in) without cap
71 mm x 22 mm x 11.5mm (2.7 in x 0.8 in x 0.4 in) with cap
97 mm x 22 mm x 11.5mm (3.8 in x 0.8 in x 0.4 in) with cap&1dBi stub

Weight: 56 g
Regulatory
Approvals
FCC, CE, TELEC, KCC, IC, Bluetooth SIG
Warranty
1 year limited warranty
Bluetooth Serial networks
PARANI-SD1000U can operate as a master in a Bluetooth network with up to 4 slaves, where the slaves can be other venders products, more PARANI-SD1000U units or serial (RS232) to Bluetooth units - PARANI-SD1000.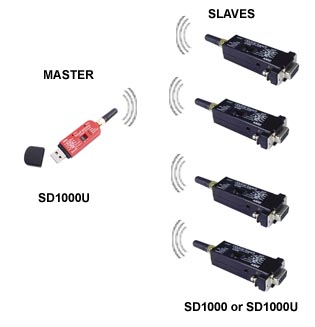 Two network options are available:
Multi-drop mode
One master communicates with four slaves simultaneously and bidirectional (master <---> slaves), which can replace wired Multi drop feature of RS422/485.
Node switching mode
One Master (M) always keeps connected to four slaves (S1,S2,S3,S4), but it communicates with only one slave at a time. User can switch among the slaves by using an AT command.
PARANI-SD1000U User Manual
(new window)
Overview of Bluetooth Wireless solutions