Selected Category and Product:

Programmers-Burners » Hand Held Programmers » SAM D Handheld » SAM-HH0820
Secure Payment by

SAMD 8-way Handheld Programmer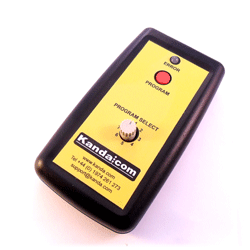 Standalone SAMD 8-way programmer
Just programmer, one SAM-HH0810 needed
Battery powered, or with optional power supply
SWD programming
One button press to program target
Shipping to United States
Recorded Airmail: $9.75
Express: $19.00
Order Code
SAM-HH0820
Price: $189.00
In Stock
Related Products
Atmel ARM SAMD 8-way Handheld Programmer
Atmel SAM D series use Cortex-M0 ARM core and are becoming increasingly popular. Kanda SAM programmer makes it simple to program these devices in production or to do firmware updates.
You need one starter kit with USB loader to load this programmer
See
SAMD 8-way Starter Kit
for version with loader.
Main Features
Battery powered with 9V PP3 battery or can be used with 9V power supply
Stores up to 8 different programs, selected by rotary switch
Each slot has512KB of storage space for target code and User Row
Single button press to program target SAMD microcontroller
SWD programming interface
Load your code into programmer code using PC Software and USB dongle
You can reload new programs as often as required
Once loaded, it holds program code indefinitely
Supports all Fuses and Lock bits, including edit fuses on screen or load userPage file
Can program target from 1.63V - 3.63V, depending on target voltage range.
Can power target microcontroller (up to 150mA) or target can be powered
All settings (User Row, filenames etc) can be saved to a file for easy distribution of setup
Error indication with red/green LED
Dimensions: Imperial - 4.5 x 2.5 x 1 inches
Dimensions: Metric- 106mm x 58mm x 25mm
Includes flying lead adapter
Other programming adapters available
Limited number of programs allowed feature
Load Atmel Studio User Page files
Windows OS
The USB loader (not included - see starter kit) in Windows 2000, XP, Vista, Win7, Win8 and Win10, 32 and 64-bit versions.
SAM D Microcontroller Support
SAMD09C13A
SAMD09C14A
SAMD10C13A
SAMD10C13ASS
SAMD10C14A
SAMD10C14ASS
SAMD10C14U
SAMD10D13AM
SAMD10D14AM
SAMD11C14A
SAMD11D14AM
SAMD11D14AU
SAMD11D14SS
SAMD20E14A
SAMD20E15A
SAMD20E16A
SAMD20E17A
SAMD20E17U
SAMD20E18A
SAMD20E18U
SAMD20G14A
SAMD20G15A
SAMD20G16A
SAMD20G17A
SAMD20G18A
SAMD20J14A
SAMD20J15A
SAMD20J16A
SAMD20J17A
SAMD20J18A
SAMD20J18C
SAMD21E15A
SAMD21E16A
SAMD21E17A
SAMD21E18A
SAMD21G15A
SAMD21G16A
SAMD21G17A
SAMD21G17A-WLCSP
SAMD21G18A
SAMD21G18A-WLCSP
SAMD21J15A
SAMD21J16A
SAMD21J17A
SAMD21J18A
Contents
SAMD 8-way Handheld Programmer
10-way Programming lead
10 to 6-way flying lead adapter
Free software downloads including all updates
Documentation
This opens in a new window.
Ordering Information
| | | |
| --- | --- | --- |
| Ordering Information | Order Code: SAM-HH0820 | Price: $189.00 |
| Shipping to United States: | Recorded airmail - $9.75 | Express price - $19.00 |