Selected Category and Product:


Debugging-Emulation » Emulators » AVR ICE » ATATMEL-ICE
Secure Payment by

AVR ICE PCBA with Adapters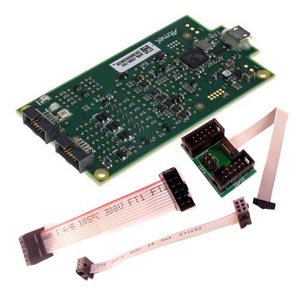 Genuine Atmel ATATMEL-ICE-PCBA
No enclosure, PCB only
Full debug and programming support for AVR and SAM D
Fully compatible with Atmel Studio
Includes 2.54mm (0.01") 6 and 10-way ISP, TPI and JTAG connectors
Shipping to United States
Recorded Airmail: $15.00
Fedex Express: $25.00
Order Code
ATATMEL-ICE
Price: $97.00
In Stock
Related Products
ATATMEL-ICE-PCBA AVR Debugger with Adapters included
ATATMEL-ICE-PCBA has all the function of expensive boxed versions but is much cheaper. The standard Atmel version of AVR ICE does NOT include any leads or connectors, which is a problem as it has 1.27mm (0.05") output connectors.
Kanda have included an adapter board with this version to convert connections to 6 and 10-way ISP and TPI and 10-way JTAG (AVR/ATxmega only).
ATATMEL-ICE-PCBA Main Features
Supports JTAG, SWD, PDI, TPI, aWire, SPI and debugWIRE interfaces
Full source level debugging in Atmel Studio
Supports all built in hardware breakpoints in the target microcontroller
Up to 128 software breakpoints
Target operating voltage range of 1.62V to 5.5V
USB powered
Provides both ARM Cortex debug connector (10 pin) pin out and AVR JTAG connector pin out- 1.27mm (0.05")
ITM serial trace capture at up to 3MB/s
USB 2.0 high speed host interface
Fully compatible with Atmel Studio
90 Day Warranty only. After Expiration of Warranty returns must be processed via Microchip.
Device Support
It supports programming and onchip debugging of all AVR 32bit microcontrollers on both JTAG and aWire interfaces, AVR XMEGA family devices on both JTAG and PDI two wire interfaces, JTAG and SPI programming and debugging of all AVR 8bit microcontroller with OCD support on either JTAG or debugWIRE interfaces, all SAM ARM Cortex-M based microcontrollers on both SWD and JTAG interfaces and all tinyAVR 8bit microcontrollers with support for the TPI interface.
The adapters supplied are for AVR family only, not SAMD.
Contents
Genuine Atmel ATATMEL-ICE-PCBA
Adapter PCB with 1.27mm lead for ICE and 6-10-way 2.54mm (0.1") connectors
10-way 2.54mm lead for ISP, TPI and JTAG
6-way 2.54mm (0.1") lead for ISP, TPI etc
Ordering Information
| | | |
| --- | --- | --- |
| Ordering Information | Order Code: ATATMEL-ICE | Price: $97.00 |
| Shipping to United States: | Recorded airmail - $15.00 | Fedex Express - $25.00 |