Selected Category and Product:


Starter Kits » Arduino » Arduino Sensors » COLOUR-SENSOR
Secure Payment by

RGB Colour Detector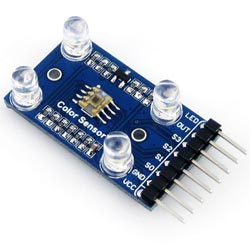 RGB Colour Sensor
Detector for RGB colour of objects. Can be used with Arduino boards or any other microcontroller board using supplied cables...
Shipping to United States
Recorded Airmail: $15.00
Fedex Express: $25.00
Order Code
COLOUR-SENSOR
Price: $4.99
In Stock
Related Products
RGB Colour Sensor
Detector for RGB colour of objects.
Sensor Chip: TCS3200 (RGB color detector)
Detects static colour, the output is a square wave with frequency directly proportional to incident light intensity
Supports fill-light using onboard LEDs
Specifications
Power: 2.7V ~ 5.5V
Ideal detection distance: 10mm
Dimension: 36.0mm * 20.6mm
Mounting holes size: 2.0mm
Applications
Sorting by colour
Ambient light sensing and calibration
Test strip reading
Color matching
How to Use the Sensor
To work with a microcontroller:
VCC ↔ 2.7V ~ 5.5V
GND ↔ power supply ground
LED ↔ MCU.IO (controlling the 4 white LEDs)
OUT ↔ MCU.IO (RGB colour output frequency)
S0/S1 ↔ MCU.IO (Output frequency scaling selection inputs)
S2/S3 ↔ MCU.IO (Photodiode type selection inputs)
S0/S1 selects the output frequency scaling factor, S2/S3 selects the colour filter as red, green, blue, then OUT outputs a square wave with frequency proportional to the selected colour intensity. The detected colour can be determined by the ratio of the intensity of red, green and blue.
Note:
Avoid environment light noise
White balance is required the first time the module is used, on module reset or on changing the light source
Contents
Colour Sensor Module
4-pin connector leads x 2
Development Resources
Code Demos, schematic, datasheets, etc.
www.waveshare.com/wiki/Color_Sensor
Documentation
This opens in a new window.
Ordering Information
| | | |
| --- | --- | --- |
| Ordering Information | Order Code: COLOUR-SENSOR | Price: $4.99 |
| Shipping to United States: | Recorded airmail - $15.00 | Fedex Express - $25.00 |