Selected Category and Product:


PC Interfaces » Zigbee Wireless Networks » ZS10-01
Secure Payment by

ProBee Zigbee to Serial Adapter Kit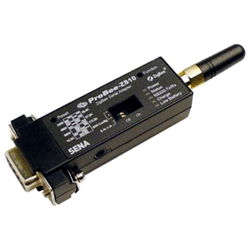 ZigBee Serial Adapter
Kit contains power supply, antenna and power leads
Optional battery pack
Simple configuration software
Can be used with Sena USB and embedded ZigBee products
Shipping to United States
Recorded Airmail: $15.00
Fedex Express: $25.00
Order Code
ZS10-01
Price: $85.00
Discontinued
ProBee ZigBee RS232 Serial Adapter
The ZS10 can be configured by the supplied Windows management tool or by using the modem AT command set to be a coordinator, a router or end point in a ZigBee network. Every ZigBee network must have one coordinator and can have lots of routers and end points.
If you need more information about Zigbee, look at these guides:
This easy to use Sena Zigbee network adapter for RS232 interfaces has an integrated ZigBee core and radio/antenna circuits built-in. The ZS10 Serial Adapter kit is designed to meet the specific requirements of low cost and low power wireless applications such as home automation or smart energy by adopting the ZigBee technology fully certified under the latest ZigBee Pro standard for the maximum compatibility. The ZS10 provides high performance and robust data transfer capability for wide range of applications.
This version includes all accessories and power supply. Other versions without accessories and wall transformer are shown under related products.
Main Features
Fully supports ZigbeeŽ/Zigbee Pro 2007 wireless connectivity
Integrated 2.4GHz, IEEE 802.15.4-compliant coprocessor
Various antenna options according to users' requirement, up to 1.6km with optional 5 dBi dipole antenna
Supports RS232 serial communication with up to 115 kbps baud rate
Supports various self management features wirelessly such as firmware upgrade and system configuration by using modem AT command set
Enhanced portability: standard & extended battery pack
Easy to use Windows configuration tool
ZS10 can be configured as a coordinator, router or end point
Guide to ZigBee networks

ProBee Specification
br>
ProBee-ZS10
RF Characteristics

Frequency Band: 2.4 GHz
Interface Immunity: DSSS
Transmit Power: +20dBm E.I.R.P (max.)
Receiver Sensitivity: -102dBm @1% BER
RF Data Rate: 250 kbps
Working Distance: Up to 1.6km using 5 dBi dipole antenna
Various Antenna Options from standard 1 dBi antenna to 3/5 dBi dipole antenna
Channels: 14
Channel Spacing: 5 MHz

ZigBee Network

Network topology: Mesh
Stack profile: ZigBee / ZigBee Pro 2007
Network addressing: Channel, PAN ID, EPID

ZigBee Data Transmission

Unicasting
Multicasting
Broadcasting
Many-to-One Communication
Enhanced Reliability based on data retransmission

ZigBee Security

Network Layer security with one Trust Center for efficient operation
128 bit AES encryption algorithms
Strong, NIST-approved security

Device Management and Configuration

Configuration Method: AT Commands, ProBee Manager
Remote Configuration
Remote Firmware Upgrade using both Cloning and Pass-thru methods
Supports rich neighborhood device scanning and monitoring using AT commands

Antenna

1 dBi default Stub Antenna
Optional Dipole Antenna: 3/5 dBi
RP-SMA connector

Interfaces

Serial Data Interface: RS232
Serial Data Rate up to 115 kbps

Battery Pack

Capacity
- 240 mAh (standard)
- 900 mAh (extended)
Charging Power: minimum 5V/200mA
- Approximately 2 hours (standard)
- Approximately 5 hours (extended)
Battery life (Test based on 9600bps data loopback. Actual battery life varies by configuration, operating conditions and other factors)
- Approximately 4.5 hours (standard)
- Approximately 16.5 hours (extended)

Physical Properties

Dimension (L x W x H)
- 73.9 x 31 x 16(mm) / 2.9 x 1.2 x 0.6(in) (No battery pack)
- 73.9 x 31 x 19.5(mm) / 2.9 x 1.2 x 0.8(in) (with standard battery pack)
- 73.9 x 31 x 31.4(mm) / 2.9 x 1.2 x 1.2(in) (with extended battery pack)
Weight
- 24 g / 0.85 oz (No battery pack)
- 30 g / 1.1 oz (with standard battery pack)
- 42 g / 1.5 oz (with extended battery pack)

Certification
FCC, CE, TELEC, KCC
Certification ID Number
ZIG10006PRV38490-24 *
* ZS10 and ZU10 based on ZE10
Warranty
3-year limited warranty
---
About ZigBee wireless networks
Package Contents
ZS10 Serial to ZigBee adapter ZS10-A1
Stub Antenna SAT-G01R
International power supply unit, wall transformer OPA-G01
DC power cable DPA-G01
USB power cable UPA-G01
Software CD
The unit can be fitted with a longer range antenna if required, please see accessories below. A battery can also be fitted, again please see accessories for standard battery.
Guide to ZigBee networks
Ordering Information
| | | |
| --- | --- | --- |
| Ordering Information | Order Code: ZS10-01 | Price: $85.00 |
| Shipping to United States: | Recorded airmail - $15.00 | Fedex Express - $25.00 |