PE Micro Multilink FX Universal Debug Probe
PEmicro's USB Multilink Universal FX is a high-speed, all-in-one development interface which allows a PC access to the Background Debug Mode (BDM) or JTAG interface on many different NXP & STMicroelectronics MCU architectures and ARM devices from several manufacturers (see complete list below).
The FX's high-speed USB interface allows communications between your Windows machine and the standard debug connector on the target. Connections to target MCUs are supported via the multiple headers located on the USB Multilink Universal FX. The product photos to the left of this page show how the headers can be accessed by simply flipping open the plastic case. Ribbon cables suitable for a variety of architectures are included.
USB Multilink Universal FX Advantages
The FX version has all the benefits of standard Multilink Universal plus these added advantages.
Super Fast RAM Download speed, 10 x faster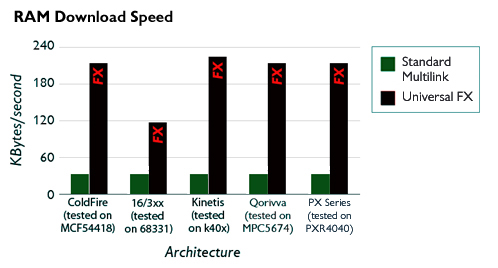 Can provide power to the target MCU
I/O line clamping for added protection
Supports additional NXP devices
Supports real-time power measurement
By using the USB Multilink Universal FX, the user can take advantage of the background debug mode to halt normal processor execution and use a PC to control the processor. The user can then directly control the target's execution, read/write registers and memory values, debug code on the processor, and program internal or external FLASH memory devices. The USB Multilink Universal FX can also provide power to your target MCU, either 3.3V or 5V.
The USB Multilink Universal FX has native IDE support in MCUXpresso IDE, S32 Design Studio, Kinetis Design Studio, recent versions of CodeWarrior® (10.x), current PEmicro software applications, and tool chains from many NXP partners including IAR, Keil, Silicon Labs (check with the vendor for device compatibility). You can also see which software versions are required to support the current revision of Multilink Universal FX.
For many of the supported processors, PEmicro has a set of interface libraries allowing the user to write their own Windows-based application which interacts with PEmicro's debug interface.
This interface is USB 2.0 compatible, and it is also backwards compatible with USB 1.1 ports.
NOTE: For production usage, see the Cyclone LC and Cyclone FX stand alone programmer, test & debug interfaces.
Multilink FX Features
High-speed USB interface from PC to Multilink allows for fast, easy programming and debugging -- with the ease and compatibility of the USB interface.
Draws power from USB interface-- no separate power supply required (draws less than 1mA from the target).
Can be used to power target MCU:

Target Voltage: 1.8V-5.25V
Target Frequency: 16Khz-50Mhz (applies to HCS08, RS08, CFV1, S12Z, or HCS12X only)

Supports JTAG daisy chaining of multiple ARM MCUs
Pipelined programming algorithms for some Power Architecture families that dramatically increase programming speed.
I/O line clamping for added protection
Auto-frequency detection + trimming capabilities for HCS08 devices.
Device Support
ARM Cortex devices
Atmel: SAMxxx
Cypress: CCG2, CCG3PA, EZ-BLE-PSoC-PRoC, EZ-BLE-PSoC6, FM3, PRoC-BLE, PSoC4, PSoC5, PSoC6, Traveo II
GigaDevice: GD32
Infineon: XMC
Maxim Integrated: DARWIN
NordicSemi: nRF51, nRF52
NXP: Automotive, iMX, Kinetis, LPC, Sensors, Trimension, Vybrid
OnBright: OB90Rxx
ON Semiconductor: RSL10
Redpine Signals: WiSeMCU
Silergy (Maxim): AM0x, AM1x, MAX716xx
Silicon Labs: EFM32, EFR32, SiM3
STMicroelectronics: Bluetooth, STM32
Texas Instruments: LM3S, LM4, SimpleLink, TM4C12x
Toshiba: TX00, TX03, TX04
WIZnet: W7500x
8/16/32 bit devices:
NXP:

S32
ColdFire® V1
ColdFire® V2/V3/V4
DSC
MPC5xx
S12Z
HC(S)12(X)
HC08, HCS08, RS08
MPC5xx/8xx**
HC16/683xx**

STMicro:
** Only available on FX
Supported Software
MULTILINK debug probes work with a wide range of third party IDEs, see list below.
If you do not have a manufacturer IDE or want to use dedicated Debug or Programming software, which are much easier to operate, PEmicro ISP and Debug software is available for purchase. View a full list of supported third-party IDEs (including ARM) along with links to setup guides and user manuals where available. A condensed list is below
PEmicro
NXP

MCUXpresso IDE (SWO debug)
Kinetis® Design Studio
S32 Design Studio for ARM
S32 Design Studio for Vision
S32 Design Studio for Power

Partners
STM32CubeIDE
IAR Workbench
Keil MDK-ARM IDE
Keil uVision IDE
Infineon DAVE IDE
Mentor Graphics Sourcery Codebench
Cosmic IDEA
More details about
Supported Software IDE's
can be seen in new window.
Unit SDK DLL and Library Modules
C/C++ and Delphi library modules which allow the creation of custom PC applications to control PEmicro hardware interfaces.
A UNIT software package consists of an interface DLL and sample code which allows a custom application to be built which can interact with and debug a target device via one of PEmicro's hardware interfaces.
The package includes both C/C++ and Delphi example routines as well as detailed calling information for the DLL/SO. The C and Delphi modules in the UNIT Hardware Interface Library Routines come as source code which interfaces with a DLL/SO to interface to the hardware. The library is very useful for building your own custom application to do such functions as product test, calibration, and update.
The demo programs included in the package show you how to initialize the interface, program registers, download code to RAM and step through code. Starting with these programs it is easy to customize them to your specific requirements.
The ARM version is free, contact us for pricing on UNIT software for other targets.
Click to download the UNITACMP Library SDK for ARM Cortex-M processors
- you need a PE Micro Account