Selected Category and Product:


Chips ICs and Modules » Wireless Modules » Waveshare Bluetooth » W-NRF51822-KIT
Secure Payment by

Bluetooth NRF51822 Development Kit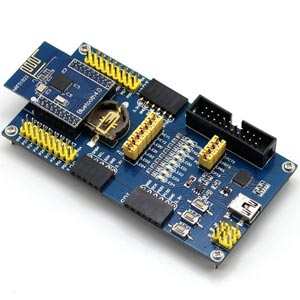 Evaluation Kit for NRF51822 Bluetooth 4.0 Modules
Includes NFR51822 Module
ARM based module with expansion headers
Onboard battery holder, multi power supplies are available
Needs separate Programmer/Debugger
Shipping to United States
Recorded Airmail: $15.00
Fedex Express: $25.00
Order Code
W-NRF51822-KIT
Price: $15.99
In Stock
Related Products
Development Kit for Bluetooth 4.0 Wireless Modules
This Waveshare kit has a BLE400 motherboard fitted with an NRF51822 Bluetooth module. It is an ideal and low cost way of evaluating these Bluetooth 4.0 modules. These feature ARM Cortex-M0 32 bit processor, 128 bit AES HW encryption, 256kB flash, 32kB RAM, SPI, I2C, UART and 10 bit ADC to give you all the features your application needs in a single package.
Motherboard Specification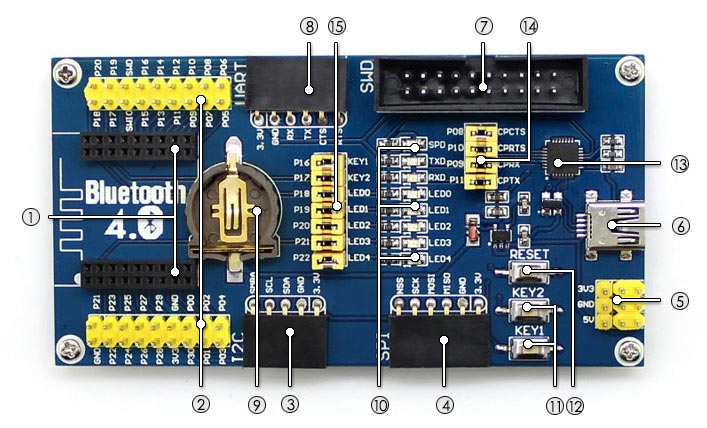 Wireless module connector: for easily connecting modules like Core51822
MCU pins expansion connector
I2C interface
SPI interface
5V/3.3V power input/output: usually used as power output, also common-grounding with other user board
USB connector: USB TO UART via onboard convertor CP2102
Debugging interface
UART interface
Battery holder
User LEDs
User keys
Reset button
CP2102
USB TO UART jumper
LEDs and Keys jumper
The motherboard dimensions are 90 x 50mm (3.5" x 2").
Full code examples and documentation are available, see link below. Developers can use 32KB free edition of Keil-ARM-MDK or completely free GCC and Eclipse solution.
Motherboard does not have built-in programmer and debugger.
See
ARM Debugger
nRF51822 Module Features
2.4 GHz multiprotocol RF transceiver
ARM� Cortex�-M0 32 bit processor
128 bit AES HW encryption
256kB flash & 32kB RAM
Programmable Peripheral Interconnect (PPI)
Digital interfaces: SPI, I2C, UART
10 bit ADC
Programmable output power: -20 to +4 dBm
Independent application development and protocol stack
Fully compatible with NRF24L series
Pinout compatible with NRF51xxx series
Global separate power management
Operating voltage: 1.8 V ~ 3.6 V
Ideal for mobile phone connections
Core51822 Module Expansion Header Layout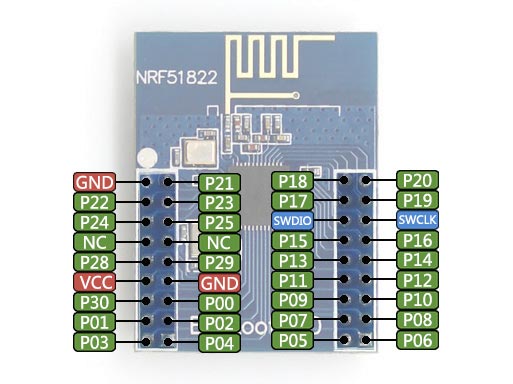 Applications
Wearable devices
Bluetooth intelligent application
Mobile phone accessories
RFID labels
Smart home appliances
Industry control
Data acquisition system
Downloads
Development resources: demo codes, schematic, datasheets, etc. in new window
NRF51822 Evaluation Kit
Ordering Information
| | | |
| --- | --- | --- |
| Ordering Information | Order Code: W-NRF51822-KIT | Price: $15.99 |
| Shipping to United States: | Recorded airmail - $15.00 | Fedex Express - $25.00 |