Selected Category and Product:


Chips ICs and Modules » Wireless Modules » Waveshare Bluetooth » W-CORE51822
Secure Payment by

W-CORE51822 Bluetooth Module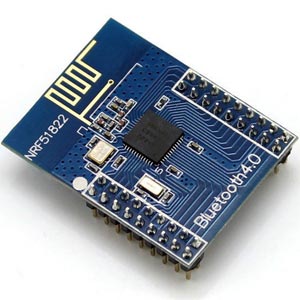 Bluetooth 4.0 Module
Fitted with Ultra Low Power nRF51822 SoC
Expansion headers for most pins
Ideal for portable applications
Onboard antenna, 30m range
Shipping to United States
Recorded Airmail: $15.00
Fedex Express: $25.00
Order Code
W-CORE51822
Price: $6.99
In Stock
Related Products
Bluetooth 4.0 Wireless Modules
This Waveshare module is fitted with an NRF51822 Bluetooth chip. It is simple way of using the new Bluetooth 4.0 nRF51822 chips. These feature ARM® Cortex™-M0 32 bit processor, 128 bit AES HW encryption, 256kB flash, 32kB RAM, SPI, I2C, UART and 10 bit ADC. They are low energy, run at 2.4 GHz RF and are designed for ultra low power (ULP) wirelesss applications.
Core51822 Module
This small footprint module with built-in antenna is a simple way of using this new nRF51822 Bluetooth 4.0 Ultra Low Power S0C.
Onboard chip: nRF51822
Communication distance (open outdoor@1M data rate): 30m
Frequency range: 2.4GHz
Operating voltage: 2.0V ~ 3.6V
Operating temperature: -40°C ~ 85°C
Dimension (PCB): 24.5mm x 32.26mm
Expansion pinheader: all the I/Os except P0.26 and P0.27
Pinheader pitch: 2.00mm
Spacing between pin-headers on the left side and the right side: 18.00mm
Antenna: onboard antenna
Core51822 Expansion headers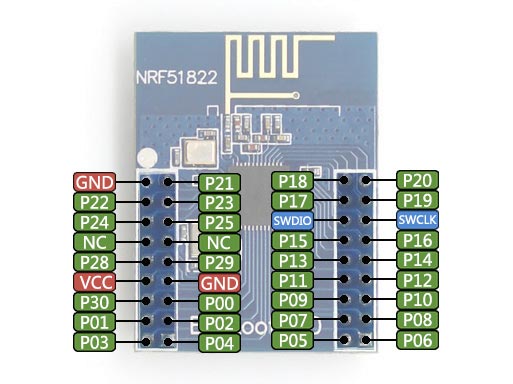 nRF51822 Chip Features
Latest ARM based ULP chip for portable applications needing Bluetooth communications with mobile phones or other equipment.
2.4 GHz multi-protocol RF transceiver
ARM® Cortex™-M0 32 bit processor
128 bit AES HW encryption
256kB flash & 32kB RAM
Programmable Peripheral Interconnect (PPI)
Digital interfaces: SPI, I2C, UART
10 bit ADC
Programmable output power: -20 to +4 dBm
Independent application development and protocol stack
Fully compatible with NRF24L series
Pinout compatible with NRF51xxx series
Global separate power management
Operating voltage: 1.8 V ~ 3.6 V
Applications
Wearable devices
Bluetooth intelligent application
Mobile phone accessories
RFID labels
Smart home appliances
Industry control
Data acquisition system
Downloads
Development resources: demo codes, schematic, datasheets, etc. in new window
Core51822 Module
Ordering Information
| | | |
| --- | --- | --- |
| Ordering Information | Order Code: W-CORE51822 | Price: $6.99 |
| Shipping to United States: | Recorded airmail - $15.00 | Fedex Express - $25.00 |