Selected Category and Product:


PC Interfaces » Waveshare LCD » HDMI-5INCH-B
Secure Payment by

5 inch HDMI Touch Screen B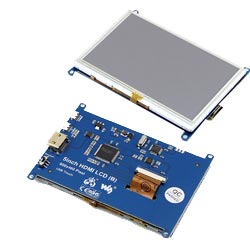 5 inch HDMI screen
Resitive touch interface
Supports Raspberry PI
Supports Windows 10
800×480 high resolution
Shipping to United States
Recorded Airmail: $15.00
Fedex Express: $25.00
Order Code
HDMI-5INCH-B
Price: $45.99
In Stock
Related Products
5 inch HDMI Touch Screen B for various Systems
Waveshare 5 inch Resistive Touch Screen LCD, with HDMI interface and support for various systems. Waveshare SKU: 10737.
Main Features
800×480 high resolution
Resistive touch control
Supports Raspberry Pi
Supports Banana Pi / Banana Pro, comes with Lubuntu, Raspbian images
Supports BB Black, comes with Angstrom image
For other mini-PCs, driver is required and should be developed by users
Not only for mini-PCs, it can work as a computer monitor just like any other general HDMI screen
HDMI interface for displaying, USB interface for touch control
Backlight can be turned off to lower power consumption
Extra New Features
Standard HID protocol, easy integration into your system
For Raspberry Pi, it supports Raspbian, Ubuntu, single touch, and is driver free
When working as a computer monitor, it supports Windows 10/8.1/8/7, single touch, and is driver free
External Dimensions
Notes
Some systems may require an external power supply (5V/2A) if PC USB port can't supply enough power.
A USB-type-A-receptacle-to-Micro-B-plug-cable may be needed for some applications.
Ordering Information
| | | |
| --- | --- | --- |
| Ordering Information | Order Code: HDMI-5INCH-B | Price: $45.99 |
| Shipping to United States: | Recorded airmail - $15.00 | Fedex Express - $25.00 |