Selected Category and Product:

Programmers-Burners » In System Programmers (ISP) » PIC Programmer ICSP » PICKIT2
Secure Payment by

PICKIT 2 Programmer and Emulator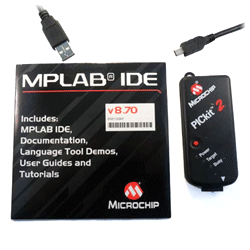 PICKit2 Programmer and Emulator
Includes MPLAB 8.70 CD but supported by MPLAB X
Separate Programming software or run from MPLAB
Debugger for assembler or C projects
Supports most PIC microcontrollers
Shipping to United States
Recorded Airmail: $9.75
Express: $19.00
Order Code
PICKIT2
Price: $36.00
Discontinued
Related Products
PICKIT 2 Programmer and Emulator
For replacement, see
PICKIT3
Microchip PICkit 2 programmer and emulator for PIC microcontrollers. The unit runs from MPLAB IDE (MPLAB 8 or X versions) or can be run from separate programming software.
Device Support
The PICKit2 supports all released PIC microcontrollers as a programmer. As a debugger, it can run on all devices with on-chip debug, which is the majority of all PICs.
Software support
The PICKit 2 is supported by all MPLAB versions, including the latest MPLAB X. It can run as a debugger in assembler or with C code from all PIC compilers including Hi-tech and Microchip XC compilers.
Ordering Information
| | | |
| --- | --- | --- |
| Ordering Information | Order Code: PICKIT2 | Price: $36.00 |
| Shipping to United States: | Recorded airmail - $9.75 | Express price - $19.00 |