Selected Category and Product:


Training and Books » Target-Evaluation Boards » TRAIN-X
Secure Payment by

TRAIN-X Board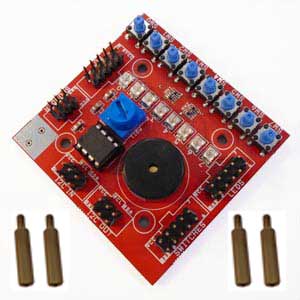 Spare training board
For MICRO-X, PIC-TRAIN4 and PIC-TRAIN-SNAP
Includes switches, LEDS, ADC and buzzer
Includes I2C socket and headers
Includes 4 stand-offs
Works with STK200-X
Shipping to United States
Recorded Airmail: $15.00
Fedex Express: $25.00
Order Code
TRAIN-X
Price: $13.00
In Stock
Related Products
TRAIN-X Board
Spare training board for MICRO-X and PIC-TRAIN4 kits. Can be used with other microcontroller kits using 10-way ribbon cables.
Includes
8 LEDs
8-switches
24C EEPROM (I2C) socket
ADC circuit and pot
Buzzer
10-way pin-headers
I2C headers
4 Stand-offs
10-way jumper cables are available separately.
EEPROM is not included, just socket. This is NOT a full training kit, just a training board!
Ordering Information
| | | |
| --- | --- | --- |
| Ordering Information | Order Code: TRAIN-X | Price: $13.00 |
| Shipping to United States: | Recorded airmail - $15.00 | Fedex Express - $25.00 |