Quick USB Introductory Bundle for Hi-speed USB
New Low Price
If you are looking to get started with the QuickUSB high speed USB module, the QuickUSB Introductory Bundle contains everything you need to prototype and add high-speed USB 2.0 to your product. The bundle includes one QuickUSB Module, one QuickUSB Adapter Board, and one 2 metre USB cable. This makes it simple to use High speed USB without making a PCB, ideal for research experiments or evaluation.
Quick USB Advantages
Quick USB is unlike a standard USB module in its features and speed of data transfer, as up to 96Mbps bursts or 20Mbps continuous data rates can be obtained, which makes it ideal for any one with lots of data to process. Our customers include universities, CERN, astronomical observatories and nuclear research institutes.
The QuickUSB module has these interfaces that can connect to USB for rapid data transfer
One 8 or 16-bit high-speed parallel port
Up to three general-purpose 8-bit parallel I/O ports
Two RS-232 ports
One I2C port, with multiplexer
One soft SPI port or FPGA configuration port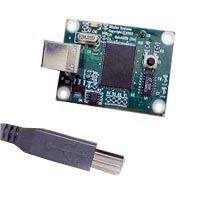 This introductory kit gives an easy start to hi-speed USB, with all you need to create a system, as the adapter board provides a QUSB2 module interface (with USB connection), 2 serial port connectors and 2 40-pin headers for easy interfacing.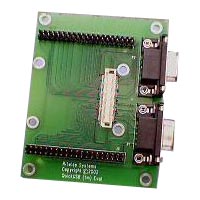 If you want to continue and add Quick USB to your own product, you can progress to the
Quick USB Chip Packs
that are a low cost option to include in your own PCB design.
Quick USB Software Package
The bundle also comes with the QuickUSB Library download which contains extensive documentation of how to set up and use QuickUSB, the device driver, 32/64-bit interface DLLs/shared libraries, utility applications, and is available for both Windows and Linux. The QuickUSB Library also comes with a variety of example programs written in many different programming languages that work out-of-the-box as the Windows DLL can be called by practically any programming language and the Windows .NET Assembly allows support for any of the .NET capable languages. The Linux version is distributed as a static (.a) and shared library (.so) for use with the numerous languages available in Linux.
Customising Your Product
Quick USB modules now include a customizer to tailor your product. You can also request a free PID (Product Identification Code) from technical support. When combined with the Bitwise Systems VID and the user-defined serial number, this makes customized modules uniquely identifiable.
With the QuickUSB Customizer(TM), you can tailor the QuickUSB Module or Chip Pack to give your product that custom developed look and feel
They'll never know it's QuickUSB!
The QuickUSB Customizer is an easy to use application that lets you make the QuickUSB Module look like a scratch-built USB peripheral. The QuickUSB Customizer lets you create a device specific template that you can apply to all your QuickUSB-based products to give them:
A user-defined 'Product' string descriptor
A user-defined product serial number
User-defined defaults
A customized INF file
The QuickUSB Customizer includes a unique PID (Product ID). When combined with the Bitwise Systems VID and the user-defined serial number, this makes customized modules uniquely identifiable.