Testimonials
"You great support helped me choose the right programmer"
I was surprised how fast delivery was, thank you"
"Thank you, you have made this an enjoyable project to work on"
Why Buy From Kanda?
World Wide Shipping
Technical Support
ISP Experts
Only the Best Brands
Simple Returns Policy
1 Year Guarantees
Secure Easy Payment
"Kanda = Excellence"

Serial EEPROM Programmer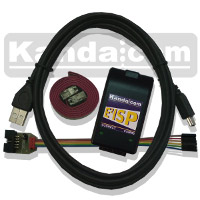 Serial EEPROM ISP for AT17, 24, 25 and 93 Series. DLL and command line available free
At Kanda.com we pride ourselves on providing only the highest quality products with everything from AVR Development Kits, AVR ISP, Single board Computers, Zigbee Wireless Modules, AVR Programmers, PIC Programmer, Universal Programmers and CAN USB equipment.
Kanda is a world renowned company who are well respected globally. Our customers will vouch for us as we provide a fast, cost effective and reliable online shopping solution. We think this is what drives our customers to become repeat clients, as we're dedicated to making sure you're happy when you shop with us.
Our equipment is affordable and reliable which makes Kanda.com one of the best and cheapest online stores in the world for equipment such as AVR Programmers, CAN USB adapters, Universal Programmers, Bluetooth andZigbee Wireless Modules and plenty more! Just browse through our online shop, we're sure we'll have something for everyone.
Kanda manufacturer our own brand of programmers for PIC, AVR, ST7 and COP8 programmers plus a range of training starter kits for PIC and AVR. We also supply products from selected manufacturers such as Sena, Xeltek, Wellon, Lawicel and QuickUSB to complement our own products.
So, no matter what your looking for, no matter what your budget then make Kanda your first choice for everything from AVR Development Kits, AVR Dragon, AVR ISP, smart card programmers, Zigbee Wireless Modules, AVR Programmers, PIC Programmer, Universal Programmers, Serial Terminal Servers and CAN USB equipment each time and remember we don't only sell these products. We have plenty more online so take a look around the site and if it's an item you can't see, or you need a different feature, then please call us and speak to one of our expert advisors who will do their best to help you.

We accept payment by bank transfer and the following payment types:








AVR Software
PIC Guides
Wireless Guides
Circuit Guides
AVR Guides
Terminal Servers
General Guides
Programmer Guides