Sena Products
USB Bluetooth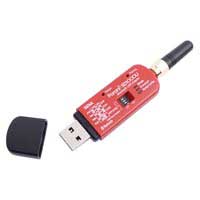 USB Bluetooth converter, works with up to 4 connections
Serial Bluetooth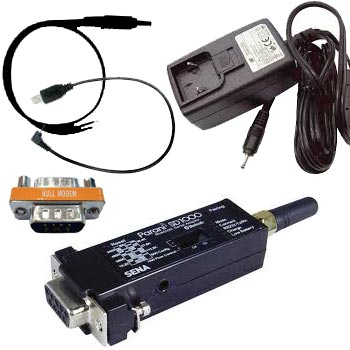 Serial to Bluetooth adapter, long range, multiple connections
Bluetooth Module

Serial to Bluetooth modules to provide wireless Bluetooth interface for your application
Bluetooth Introduction
Bluetooth is a wireless protocol for transfering lots of data quickly. As it is a standard, wireless Bluetooth devices from different manufacturers can communicate with each other. This is achieved by using Profiles. Each type of device, for example, headsets, phones, serial port products have their own profile.
So, a device that needs to connect a PC USB port to all types of Bluetooth wireless devices should support as many profiles as possible. On the other hand, a Bluetooth wireless device that replaces wired serial ports would just support Serial Port Profile. Ideally it should allow multiple connections to create a Bluetooth wireless network or allow simple connection between two devices to replicate a serial lead.
Kanda sell both USB and Serial to Bluetooth adapters, as well as Bluetooth IP gateways for Ethernet connection. We also supply embedded serial to Bluetooth wireless modules for Bluetooth enabling your own products.
USB to Bluetooth Adapters
Kanda supply two USB to Bluetooth adapters. Both can connect to a wide range of Blueooth devices. One is a good quality standard USB to Bluetooth adapter, with a range of 10's of metres. The other is a much longer range device, with different antenna options to give up to 1Km.
| | | |
| --- | --- | --- |
| | | Standard USB to Bluetooth Adapter |
| | | Long Range USB to Bluetooth Adapter |
---
Serial to Bluetooth
Another Sena Bluetooth wireless line we carry is designed for Bluetooth wireless enabling serial port (RS232) products. This could be a simple cable replacement with a wireless link created by pairing two Bluetooth units together. SD1000 and SD1000U have a button that can lock two devices together without lots of configuration.

Another setup is a Bluetooth wireless network, connected to a PC through USB port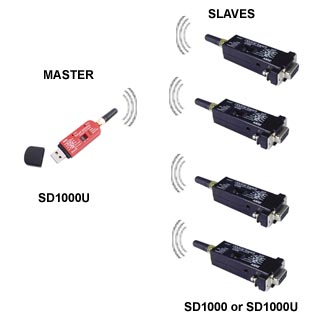 Kanda supply 2 products that can support up to 4 Bluetooth slaves connected to one master. USB to Bluetooth and serial to Bluetooth wireless units are interchangeable in this layout. Both can also be paired. Serial Bluetooth modules (see below)can also connect to the USB Bluetooth wireless unit or Serial Bluetooth product.
| | | |
| --- | --- | --- |
| | | Serial to Bluetooth Converter |
| | | USB to Bluetooth Converter |
---
Connecting to IP network
If you need to connect to your IP network instead of a PC USB port, the Parani-1000 series are Bluetooth Access Points that provide a Bluetooth wireless to IP Gateway. They are extremely flexible and can be set up very easily to be:
A TCP/IP server or client for your host PC
A repeater to give extra distance in your network
A Bluetooth hub to allow multiple devices to communicate with each other - up to 28
Or a LAP interface for direct connection between your Bluetooth devices and ADSL phone lines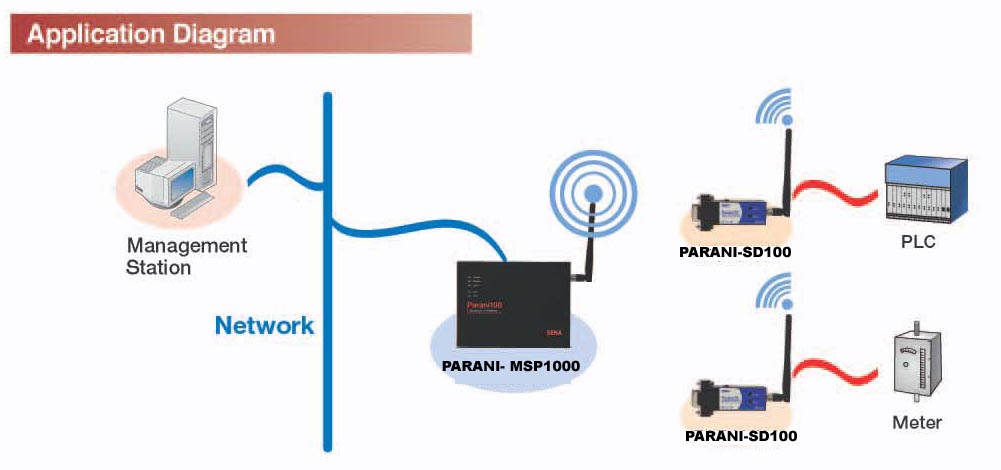 This Bluetooth access point can be used in combination with serial to Bluetooth adapters, Bluetooth modules or any other Bluetooth device that supports Serial Port, LAN Access, PAN, Dial up Networking or File Transfer Protocols. You do not need to understand Bluetooth or wireless and you don't need to modify your existing equipment. With setup and management via Internet Explorer, Windows Management Software, Telnet or a Terminal Program, you have all the flexibility you need.
| | | |
| --- | --- | --- |
| | | Bluetooth Access Point |
---
Embedded Bluetooth to Serial Modules
Class 1, class 2 (30 metres) and Bluetooth V2.0 embedded Bluetooth to serial modules to fit in your application. These modules have 8 or 12 pins and are supplied with antenna. Both class 1 and class 2 modules are available with on-board antenna or with an external stub antenna and lead, but alternative antenna are available to give up to 1000m range. V2.0 modules also have a series of antenna choices.
Starter kits are available to get you going with the modules, which can be used in combination with the USB or Serial Bluetooth adapters or Bluetooth IP Gateway described above.
| | | |
| --- | --- | --- |
| | Embedded Bluetooth to serial modules | |
---
Other Wireless Solutions
Kanda have alternatives to Bluetooth wireless. If you are not sure which wireless solution is best for your application, here is a comparison chart giving the features of three wireless protocols, Bluetooth, ZigBee and WiFi
ZigBee
Wi-Fi
Bluetooth
Application
Monitoring and Control
Email, Web, Video
Cable replacement
Physical/ MAC layers
IEEE 802.15.4
IEEE 802.11
IEEE 802.15.1
Data Rate
250 Kbits/s
11 & 54 Mbits/sec
1 Mbits/s
Range
10-100 meters
50-100 meters
10 meters
Networking Topology
Mesh
Point to hub
Ad-hoc, very small networks
Operating Frequency
2.4 GHz
2.4 and 5 GHz
2.4 GHz
Complexity (Device and application impact)
Low
High
High
Power Consumption
low
High
Medium
Number of devices for Network
64K
32 per access point
7
Network Latency

New slave enumeration
30 ms
-
20 sec
Network Latency

Sleeping slave changing to active
Devices can join an existing network in under 30ms
Device connection requires 3-5 seconds
Device connection requires up to 10 seconds
Typical Applications
Industrial control and monitoring, sensor networks, building automation, home control and automation, toys, games
Wireless LAN connectivity, broadband Internet access
Wireless connectivity between devices such as phones, PDA, laptops, headsets
---
ZigBee Wireless Solution
Bluetooth is very good for fast data transfer, but for control and monitoring applications, you could consider
Zigbee Wireless
instead, as it is more flexible.

---
WiFi Serial Device Servers
Wireless-enable your serial devices using these wireless device servers, which can connect to your existing WiFi network or hub.
STS400
STS800
STS1600

Four Port Terminal Device Server with WiFi PC card support
Eight Port Terminal Device Server with WiFi PC card support
Sixteen Port Terminal Device Server with WiFi PC card support