Serial EEPROM Programmers
The main families of Serial EEPROMs are 24C and 25C. The 24C EEPROM family use I2C communications and 25C EEPROMs use SPI. As these are two and three/four wire protocols, very few lines are needed for connection to a microcontroller or a programmer. All Serial EEPROMs retain their data when the power is switched off, most commonly for 1000 years!
Applications
This makes them ideal for storing configuration data or for use as an external data memory for microcontrollers. Our
handheld EEPROM programmer
can power a target circuit so the EEPROM can be separate from the rest of the circuit. This makes it possible to store configuration data or quality control information in a Serial EEPROM without powering the board, as the programmer supplies the power for serial EEPROM programming.
In System Programmers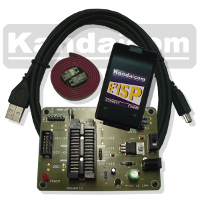 Kanda supply an In System Programmer (ISP) for
Serial EEPROM programming
This programmer uses the USB port and is comes with a color-coded flying lead for simple connection.
It is also available with a programmer board fitted with a 28-pin ZIF socket. This accepts all 8-pin DIP EEPROMs -
Serial EEPROM programmer Board
.
IC Test Clips are available to connect directly to devices in a circuit, in 8-pin SOIC and DIP packages.
Free DLL and Command Line Software is available for this programmer, with Console program and examples in VB, Delphi and C++
Ideal for building into ATE systems and production jigs.
Handheld Programmer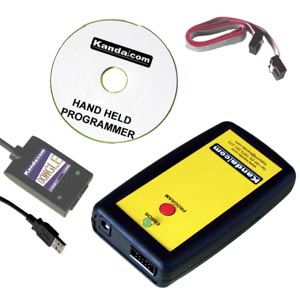 The
Handheld Serial EEPROM Programmer
can be battery powered or connected to a Power Supply (9 VDC) for production use. It can program serial EEPROMs down to 1.8V and is really simple to use. Just press the big red button! The handheld EEPROM programmer is loaded with data and device information from the PC using the starter kit and is then completely portable.
Load the handheld from the PC using the supplied USB adapter and easy to use software and it can then be used anywhere, on the production line or for field updates.
Universal programmer
We have a range of Univeral programmers that can program serial EEPROMs as well as a wide range of Flash memory, EPROM, PLD and microcontrollers. Our universal programmers have 40 or 48-pin sockets and we have a range with different device support.
The lowest cost universal programmer, which has support for most serial EEPROMs is the
VP-290 40-pin universal programmer
For an overview of all universal programmers, see
Universal Programmer Range
Products of Interest: