PIC Microcontroller Training Kit
PIC Microcontroller Training Kit
This PIC kit includes everything you need to learn about PIC microcontroller programming, including, comprehensive browser based tutorials, a book on CD, MPLAB X development software including XC8 C ...
Order Code
PIC-TRAIN4
Price: $119.00
Economy PIC Training Kit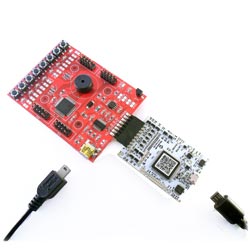 Microcontroller Programming Kit
Low cost kit for learning PIC microcontroller programming, including book, tutorials, development software, C compiler, hardware board and a Microchip SNAP programmer and debugger.
Order Code
PIC-TRAIN-SNAP
Price: $79.00
PIC Training kit for Unit 6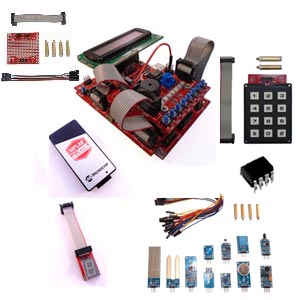 PIC Microcontroller Kit to Cover Unit 6
Unit 6 covers Microcontroller Systems for Engineers course requirements. This is the unit taught in colleges in UK and elsewhere to students who need to learn about microcontrollers
Order Code
MICRO-X-UNIT6
Price: $199.00
Microchip PIC microcontrollers are popular 8-bit microcontrollers widely used in all types of electronic applications. Learn how to program PIC microcontrollers with Kanda PIC training kits.

Kanda PIC kits have all you need for PIC microcontroller training. They use Microchip MPLAB X development environment to program in assembler and PIC C code. Our kits include a debugger and programmer that works from MPLAB X, either PIC Kit 4 or MPLAB SNAP. A PIC board is included with these development kits.

As well as all the hardware you need, Kanda PIC kits include comprehensive tutorials, covering all you need to know, and lots of sample code projects in both Assembly language and C.