Most of us have PIC programmers for development, such as Microchip IDC2 or a PIC ICSP programmer such as PRESTO, which are very good at what they do. But they are not ideal for either production or field updates, because they require too much knowledge to use or need a laptop to be used in a challenging environment.
So what are the alternatives?

The answer is a portable PIC programmer that is easy to use and avoids laptop use in field environments like kitchens, busy factory floors or confined spaces. There are quite a lot of sophisticated portable programmers available, and Kanda also supply a portable programmer that can store 32 different target PIC microcontrollers and firmware files. Versions can also be found that support a wider range of microcontrollers and memory chips but are obviously more expensive.
These type of programmers provide an answer to using a laptop but they are quite complicated, with menu systems and lots of buttons, which doesn't solve the problem of ease of use. The solution to this problem is to reduce the complexity because all you actually need is a button to start programming and a LED to indicate programming progress and error or success.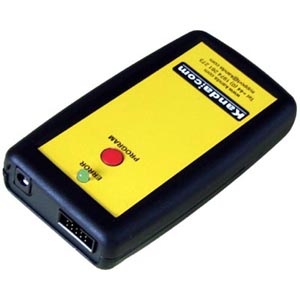 This is the basis of
Kanda handheld programmers
that use 1 button and one LED that can be green or red. Once the programmer has been loaded from PC, firmware updates couldn't be simpler, just press a button and watch the LED. There are some extra features, such as adapters for different interface types, although a lot of people add their own custom connectors, and they can power the target.
In response to customer feedback, a second version is available with an additional 8-way rotary switch that can store up to 8 firmware setups. This is especially useful for field engineers who have to update several different product models that have separate code or PIC microcontroller choices.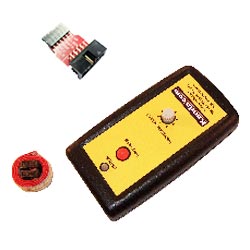 Again, this is as easy as possible to reduce cost and keep it simple. A label stuck on the back can be used to show which product model is in which program slot. And that's it, portable programmers for simplicity.
More information about Portable PIC Programmers