What is a standalone Programmer? This is a programmer that is loaded from a PC or laptop but once loaded, it is completely portable and does not require a PC to operate. So, how do you choose one?
Well, your chosen standalone programmer must obviously support the chip you want to program! Nearly all standalone programmers use In System Programming (ISP) rather than having a socket.
Your board must have a suitable ISP connector, typical 5 or 6-pin header, which is either 6 x 1 SIL or 3 x 2 DIL format. Kanda standalone programmers have a range of adapters to fit other connector formats.
Kanda Standalone Programmers
Kanda handheld standalone programmers support AVR microcontrollers, PIC microcontrollers, SAM (ARM Cortex M0) and some Serial EEPROMs.
All are designed to be portable, easy to use and flexible. They are loaded from the PC and once loaded are completely standalone. There are several versions of our standalone programmers – Single units that hold one program and our 8-way standalone programmer that can hold up to 8 different programs.
There is also a simpler version in a keyfob case that holds one program and the portable programmer, with LCD and keypad, that holds up to 32 programs.
The user just needs to plug them in to ISP header, select correct program and press the button. Reloading is simple and there is an Android Phone App to share loader files, making them truly portable.
Different Kanda Standalone Programmers
Handheld Programmers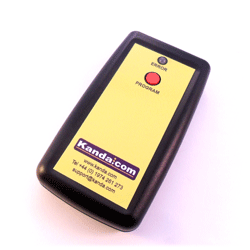 Standalone Serial EEProm Programmers
Keyfob Programmers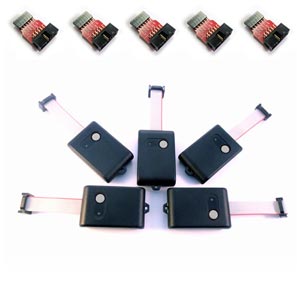 Keyfob Standalone Programmers for PIC, AVR, ST7 Microcontrollers
PE Micro Cyclone Standalone Programmers
PE Micro Cyclone programmers can be used from the PC as a programmer or debugger, using PE Micro family specific software or the chip manufacturers IDE. But they can also be used as a standalone programmer.
They support all ARM microcontrollers as well as supporting 8/16/32 devices from NXP, Infineon, Renesas, ST etc. They can hold 200+ different images that are selected using the touch screen.
They also support serial numbering, encryption, bar coding and many other features.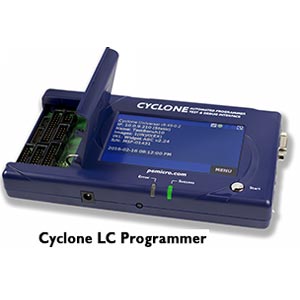 Cyclone Standalone Programmer for ARM., NXP and Other Microcontrollers.
Summary
Kanda's range of keyfob, handheld and portable standalone programmers are excellent for PIC, AVR and SAM microcontrollers and give you a choice of different options, depending on budget and number of different programs you use.
PE Micro Cyclone standalone programmers are for a wider range of devices, have many more features but are not so simple to use.