PLD Training

PLD programming kit, using Atmel PLD devices. Includes a training book, target board and PLD programmer.

USB PLD Training Kit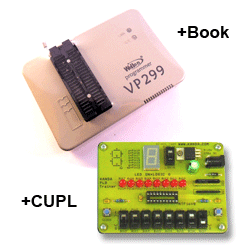 USB PLD Training Kit
A training and development system for Programmable Logic Devices - PLD. This unique training kit allows you to learn the principles, try out the code and program devices. As well...
Order Code
PLD-TRAIN-USB
Price: $199.00
PLD Training Board
PLD Training Board for 16V8 PLD
Training board for 16V8 PLDs, includes ATF16V8C chip. Board has switches, 7-segment display, LEDs and device socket...
Order Code
PLD-BOARD
Price: $39.00