Kanda have been supplying PIC, serial EEPROM, ST7, COP8 and AVR portable programmers for many years and are always extending the range. They vary from simple units in a keyfob case to larger hand held units with storage for one or more programs up to a portable programmer with LCD and keypad that will store 32 programs.
Portable programmers are used to make firmware updates in the field or on the production line as simple as possible. It is not always convenient to take a laptop or have PCs on the production line, so a portable unit is a good idea but they shouldn't be too complicated as this defeats the purpose. Our standalone programmers are made as simple as possible, with only a button press needed to program the target, except our units that store up to 8 programs that also need a rotary switch to select the correct slot.
As they are so easy to use, they can be supplied to non-technical operatives, customers or distributors to allow them to carry out equipment updates without you having to visit or send an engineer. They are also extremely useful on the production line as little expertise is required to use them. We have customers in all sorts of industries including industrial catering suppliers, washing machine manufacturers, electric fence makers, power companies, aircraft maintenance and many, many more.
We have now added an 8-way AVR microcontroller programmer to the existing keyfob and handheld products. This, like its PIC equivalent, has 8 slots that can be set for different AVR devices, with different code and fuse settings for each. An 8-way rotary switch is used to select the necessary slot. As well as ISP programming it also supports JTAG. It is loaded from the PC with a USB dongle and it is completely portable. It uses a 9V battery or can be used with a power supply, ideal for production use.
This new unit is aimed at customers who need to update the firmware in several products. The engineer or production worker only has to carry one unit to update any product he encounters, saving time, money and hassle.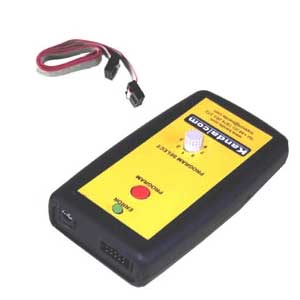 Kanda handheld programmers have lots of features that make it easy to transfer code and settings from engineering to production or to a distributor or application engineers in remote locations. They can load AVR ELF production files and PIC Hex files, including configuration bytes. Software settings are saved to the registry or to a user file that can be send to other users.
Once a programmer is loaded, its contents can be copied to a file and sent to another user to load their programmer with an exact copy, so no mistakes are made. This file can be loaded by a command line utility if required, which means that the end user does not have to know anything about the microcontroller or software.