Microchip took over Atmel (who made the AVR microcontroller) a few years ago and have been slowly erasing the Atmel brand. Their latest move is to rename Atmel Studio as Microchip Studio.
We have looked at the new Microchip version and really nothing has changed. It still uses the same Solution and Project file extensions – .asmproj, .cprog, .atsln etc. so you can still find them. They open okay in the new version.
The code in all our Atmel Studio compiles and runs just fine and it uses the original AVR assembler and compiler. It also supports the same tools, such as AVRISP-MKII programmer and AVR ICE debugger. Its look and feel are the same except the new logo.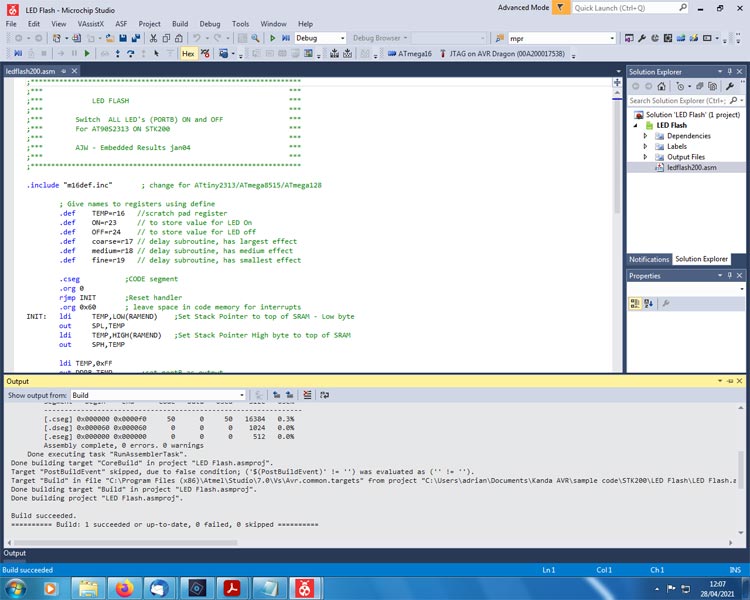 Where Microchip go from here is anybody's guess. The installer offers to install XC8 C compiler as they are adding AVR support to that – haven't looked at syntax differences yet but some rewriting will be necessary. There also seems to be a move to add AVR microcontrollers to MPLAB X, the original PIC development environment. Watch this space…
Obviously Microchip have moved all the download pages for this new version so old links don't work. At the time of writing, the download page is shown below but if it does work just type Microchip Studio 7 Download into your search engine and it will find it easier than searching on Microchip site.
https://www.microchip.com/en-us/development-tools-tools-and-software/microchip-studio-for-avr-and-sam-devices#Downloads
Related Posts
Atmel Studio Explored

Create ELF Production Files in Studio

Studio Missing External Tools Menu

Moving from Atmel Studio to MPLAB X IDE